Resin Flooring from EPODEX
There are many reasons for choosing a epoxy resin flooring. It is tough, resilient and cost-effective. The installation is comparably easy and it requires low-maintenance. On top of that, you can dye your resin flooring in almost any colour from our wide range of epoxy paint. Browse through our categories to find the best epoxy resin kit for your flooring:
Benefits of Resin Flooring
You want to protect your floor from stains, high loads or wear and tear? An epoxy resin flooring is the right choice for you! Our epoxy resin is easy-to-apply, temperature-stable, extremely tough and resilient. It allows excellent insulation and is resistant to stains.
Furthermore, a resin flooring makes your floor weatherproof and very easy-to-clean. It does not require high-maintenance and can be cleaned with regular all-purpose cleaners. Therefore, it does not come as a surprise that resin floors are mainly used in industry. To install a resin flooring yourself, you do not need any special expertise.
Install Resin Flooring Yourself
Before you start coating your floor, you have to measure the surface to be coated and decide what layer thickness is required for your purposes. Depending on the load, we recommend layer thicknesses from 1.2 to 3.5mm. The average resin flooring is between 2 and 2.5mm.
For small spaces, such as garages with an average size of 10m² you will need approximately 18kg of epoxy resin for 2mm layer thickness. You can determine the exact amount of resin you need with our epoxy resin calculator.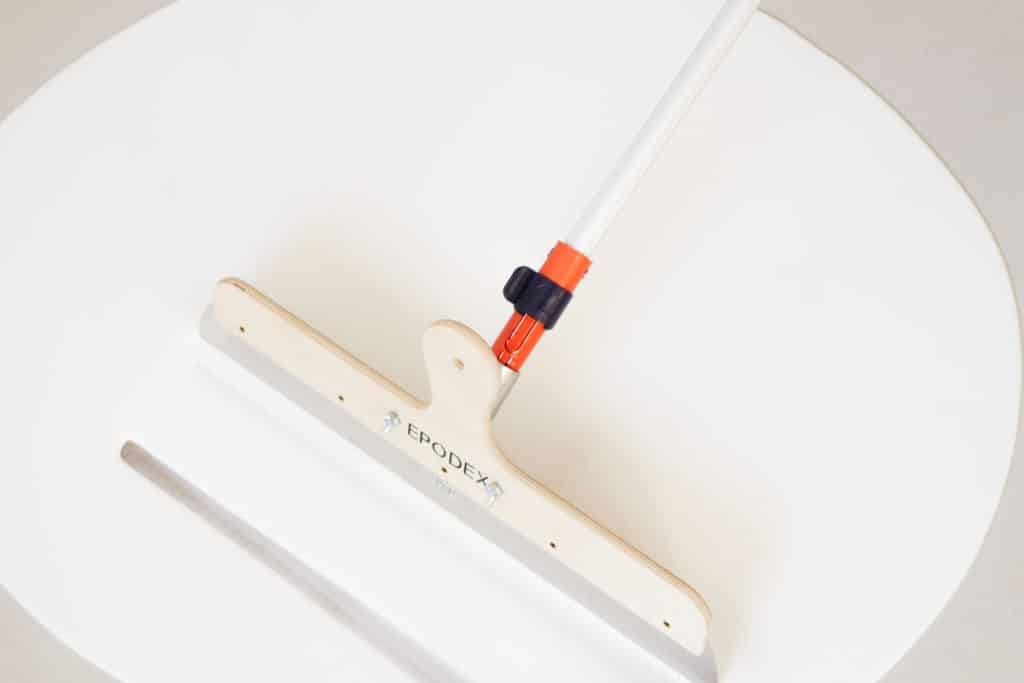 ProvenExpert

TOP ratings
˂
Everything great! Especially the telephone contact. I would find it helpful if more videos were included. Explanations of what you have to consider. 03.10.2020
There was a small problem with my last delivery, which was fixed immediately after a short call without any problems. 01.09.2020
Website very informative, product selection is also very interesting, the order was also delivered in a few days. 22.08.2020
˃
How to Make a Resin Flooring
For the best possible result, you start your project by cleaning the surface thoroughly. Remove all dust and stains and fix any holes or cracks with epoxy putty. This way, you will get a clean and smooth surface to seal with epoxy resin. Make sure to mask the floor ends and edges.
Then you can start with a thin primer of 0.2 to 0.5mm. Our epoxy primer EPODEX SEALER & PRIMER is ideally suited for that. You just have to mix the required amount of resin and hardener in the correct ratio and apply it with a paint roller or squeegee. It is advisable to paint crosswise to close all pores and let the primer cure. This ensures a proper sealing and minimum material-loss. Once the primer has cured, you can start with the main coating of your resin floor.
For a glossy, durable finish of a coloured resin flooring you can add a third layer of clear casting resin. Please note the exact curing time in doing so. You will find detailed application instructions and examples on our product pages.
EPODEX Provides You with a New Resin Flooring
In our online shop you will find everything you need to install a resin flooring in your home, business or warehouse. If you have any questions concerning our products or the amount of epoxy resin you need for your floor, please do not hesitate to contact us. You can reach us during business hours by phone and via WhatsApp or send us an e-mail at any time.