Epoxy Garage Floor
---
A garage floor is exposed every day to heavy loads. It does not matter if you use your garage to park your car or motorcycle or if you use it mainly as storage space for your garden tools, tires or others. Daily use of your vehicle, temperature variations due to the weather and mechanical stresses can permanently damage your garage floor. A quick, inexpensive and simple solution is to cover your floor with EPODEX garage floor epoxy resin.
Opt for a garage floor epoxy
Do you want to protect your garage floor from daily contact with your car tires, heavy loads and oil stains? If yes, epoxy garage floor resin is the right choice for you. Our garage floor epoxy resin is easy to work it, stable despite temperature changes, hardens firmly and is very resistant. The particularity of a garage floor covered with garage floor epoxy resin is that it is also totally insensitive to fuel leaks such as oil or petrol. Unlike a garage floor epoxy, a stone floor can be permanently damaged as oil stains in particular are difficult to remove.
A garage floor epoxy makes your garage floor waterproof and very easy to clean. A synthetic garage floor epoxy resin is maintenance-free, can be cleaned with a standard all-purpose cleaner and remains virtually new for decades. It is not for nothing that this type of garage floor epoxy resin is mainly used in the industry!
Seal your garage floor with an epoxy resin kit
Calculate the size of your garage and decide on the thickness of the layer you need. Then find on our website the perfect set to seal your floor with garage floor epoxy. A garage floor of an average size of 10m ² requires about 12-18kg of garage floor epoxy resin to obtain a floor covering of 1.2mm to 2mm thickness. Depending on the load on the floor, we recommend a total layer thickness of 1.2 mm to 2.5 mm. By default, most of our customers process a 2mm layer.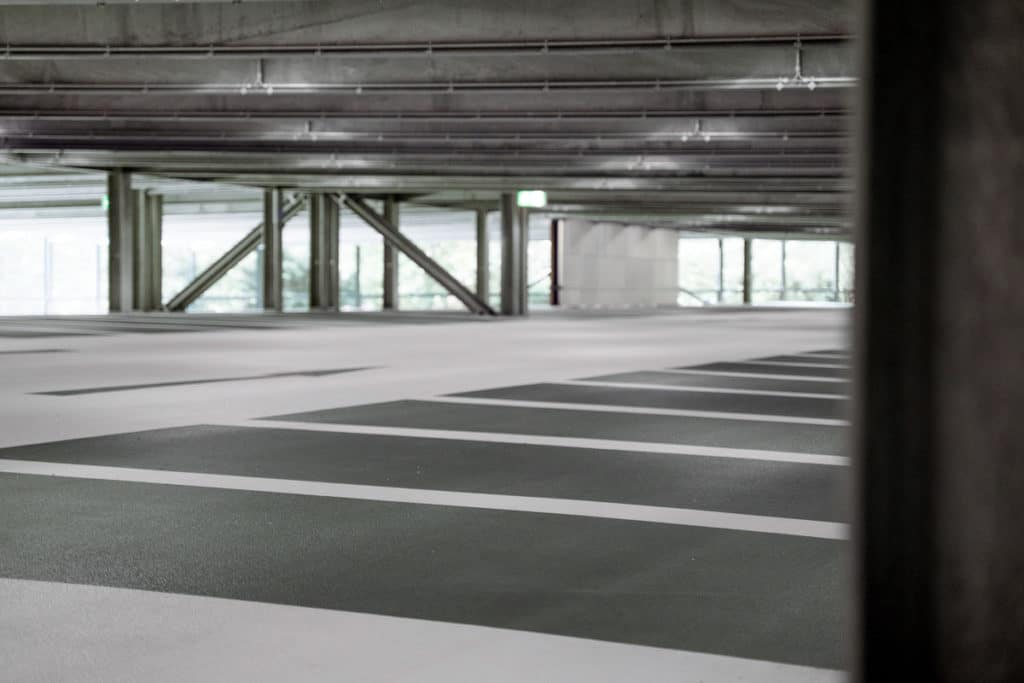 How to apply epoxy resin on a garage floor
The application of our epoxy resin on the garage floor is fast and easy. First, carefully clean the floor to be sealed and allow it to dry. Then start mixing the garage floor epoxy resin with the hardener in a ratio of 2: 1. The application of garage floor epoxy works best with a squeegee or paint roller. We recommend first applying a thin coat of 0.2 mm-0.5 mm primer and allowing it to cure for at least 20 hours. This layer seals your floor and prevents the penetration of too much garage floor epoxy resin into the substrate.
This saves material and means you only have to buy as much epoxy resin as you really need. After curing time, you can apply the main coat with the remaining epoxy resin. If you used a coloured epoxy or want an extra layer of effect glitter, apply a third coat of clear resin to seal. Please note the curing time again. You will find detailed application instructions and examples in our videos. At an ambient temperature of 20°C, our casting resin is already touchable after about 24 hours. Then you can use your garage floor as usual.
More than
314,000+
Satisfied costumers
Website very informative, product selection is also very interesting, the order was also delivered in a few days.
01.11.2021
Everything great! Especially the telephone contact. I would find it helpful if more videos were included. Explanations of what you have to consider.
13.10.2021
There was a small problem with my last delivery, which was fixed immediately after a short call without any problems.
22.09.2021
Transparency
Quality
Customer Service
We deliver your garage floor epoxy resin kit for £5.99
Plan your individual epoxy resin flooring for your garage and, we will help you realize your project!
Do you have questions about a product, do you want a certain colour, or are you unsure about the amount of synthetic resin you need? No problem — do not hesitate to contact us.
You can reach us by phone, e-mail and WhatsApp.
We are looking forward to hearing from you!