High-Quality Epoxy Resin by EPODEX
Our epoxy resin kits meet the highest standards. Resin and hardener are subject to the strictest regulations. Production takes place in state-of-the-art facilities and is regularly monitored. This enables us to keep times of production, storage and sale as short as possible and to always offer you freshly produced resin. Since our products are solvent-free, no harmful thinners are exposed during processing and there is no loss of material due to evaporation during curing. We do not use any substances that are hazardous to health and provide our customers and employees only with safe products.
The formulation of EPODEX's epoxy resin stands out for its high bending and compressive strength as well as for outstanding impact strength. In addition, our products have very good impregnation properties and excellent chemical resistance.
Buy 2-component epoxy resin - resin and hardener
What is Epoxy Resin?
We are specialised in 2-part epoxy resin, which is mixed from resin and hardener. When those components are mixed together in the correct ratio, an exothermic, chemical reaction occurs. During processing, it is liquid at first, then becomes gel-like and cures later. Depending on the resin kit, this reaction takes shorter or longer, which also effects the possible applications.
For example, if you want to coat a tabletop, choose a fast curing resin such as EPODEX ECO. For river tables with higher casting depths, EPODEX PRO+ is the best choice. To get the best possible result, it is important to prepare the surface thoroughly and mix the two components according to the instructions. Additionally, the working environment must meet certain standards regarding temperature and humidity. You will find all details about our products and exact application instructions on the product pages.
ProvenExpert

TOP ratings
˂
Everything great! Especially the telephone contact. I would find it helpful if more videos were included. Explanations of what you have to consider. 03.10.2020
There was a small problem with my last delivery, which was fixed immediately after a short call without any problems. 01.09.2020
Website very informative, product selection is also very interesting, the order was also delivered in a few days. 22.08.2020
˃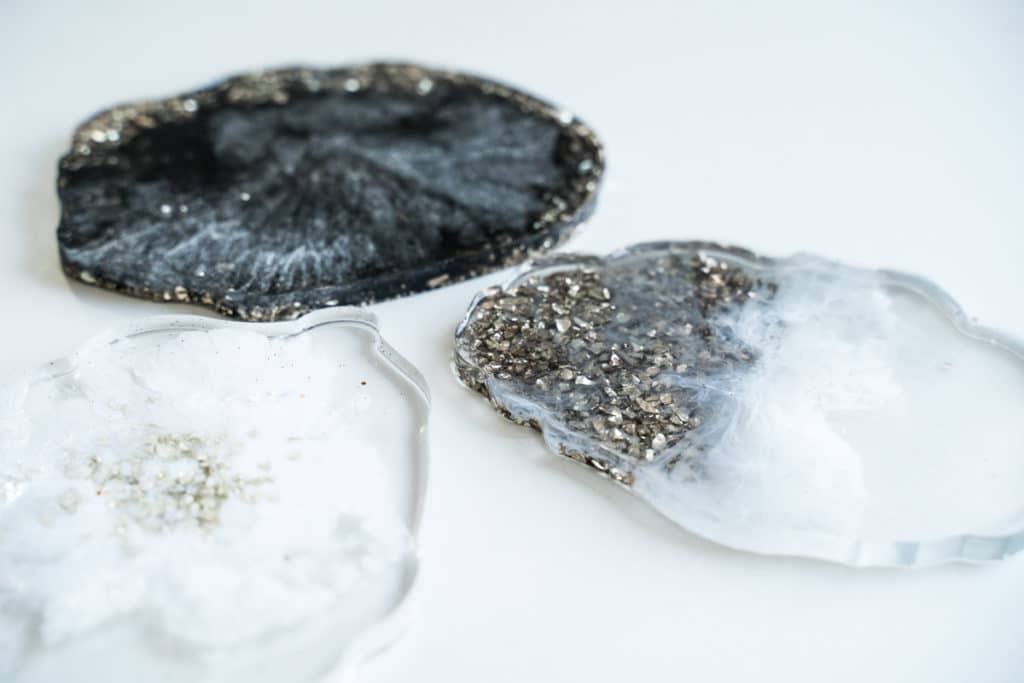 Application of Epoxy Resin
Insulate your industrial floor or garage floor, cast an epoxy table or create your own jewellery: Thanks to the ideal mixing ratio of resin and hardener, our product is suitable for a variety of applications. From coatings to gluing and filling work to impregnating glass, aramid and carbon fibres. Epoxy resin can be used in hobby, craft and industry.
Synthetic resin is easy and quick to apply and equally popular with our private and commercial customers. Our resin kits are ideally suited as coatings and can be applied to almost all surfaces. EPODEX's epoxy resin has a very good adhesion to materials such as concrete, metal and styrofoam and it is often used for sealing wood. In shipping, marine epoxy is the material of choice when it comes to manufacturing, repairing and laminating GRP boats.
Buy Epoxy Resin – Coloured or Crystal Clear
Whether you want to cast resin for stunning tables or lay a completely new high-gloss resin flooring, we offer you a wide range of colour pastes, transparent colours, metallic pigments and neon pigments to mix in our epoxy resin. Working with epoxy resin is a lot of fun and is easy to learn for beginners! In our shop you will find numerous colours to achieve great effects. All colours can be mixed with each other to create any desired shade of colour.