Make Your Own Epoxy Resin Table
Coating an epoxy resin table is easy to do! Order high-quality epoxy resin now and do it yourself. Extravagant design tables, exciting river tables, or insulating tabletops for gastronomy and industry purposes. EPODEX has the ideal resin for your next project. Whether you want to make a brand new epoxy resin table or refurbish and customize an older table, we have the products you need.
Our step-by-step instructions will guide you through the entire process. Use our synthetic resin on wood, plastic, rigid foam, natural stone, GRP, or concrete. In addition to our crystal clear resin & hardener, you will find a wide range of epoxy colours in our shop.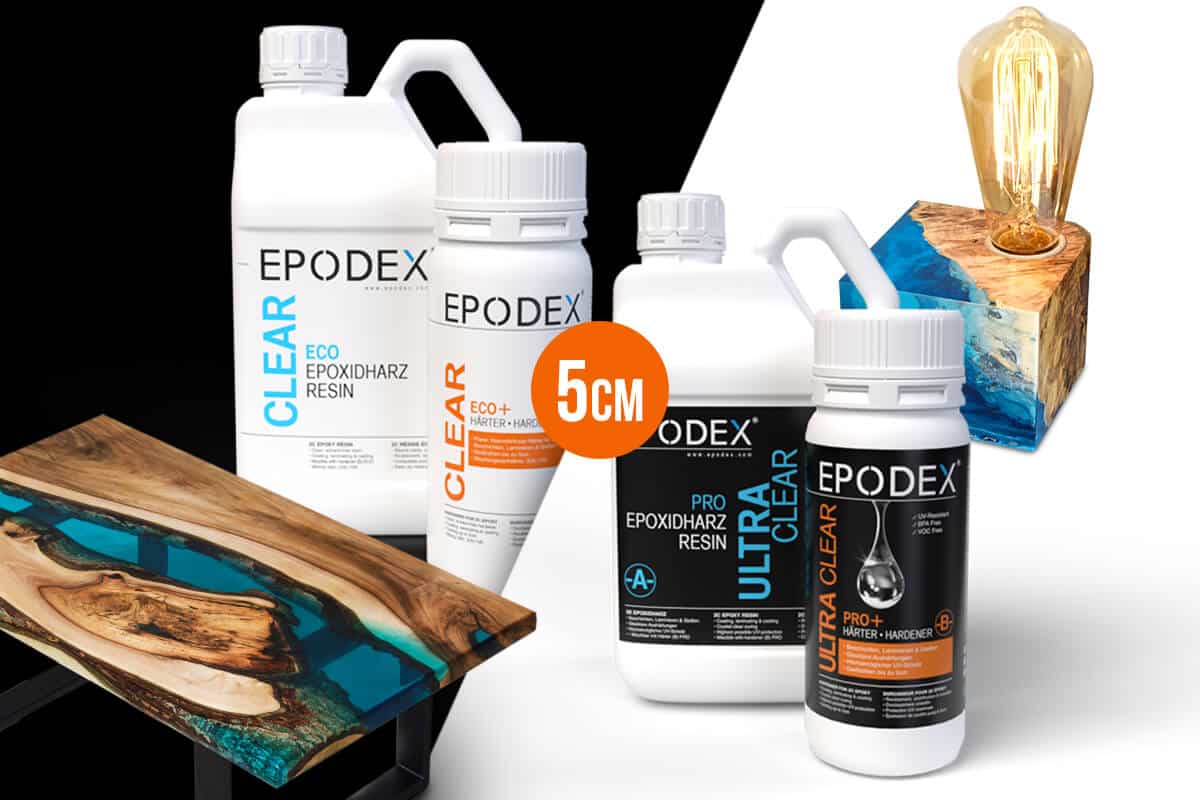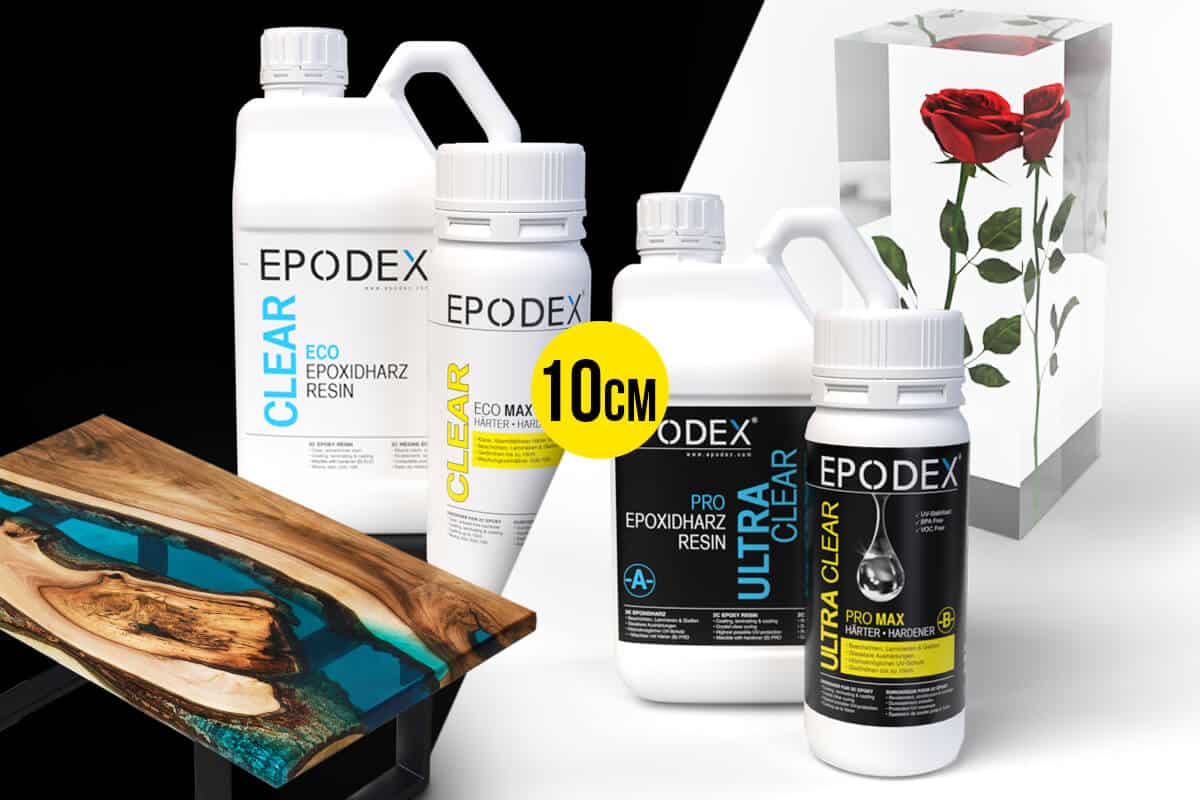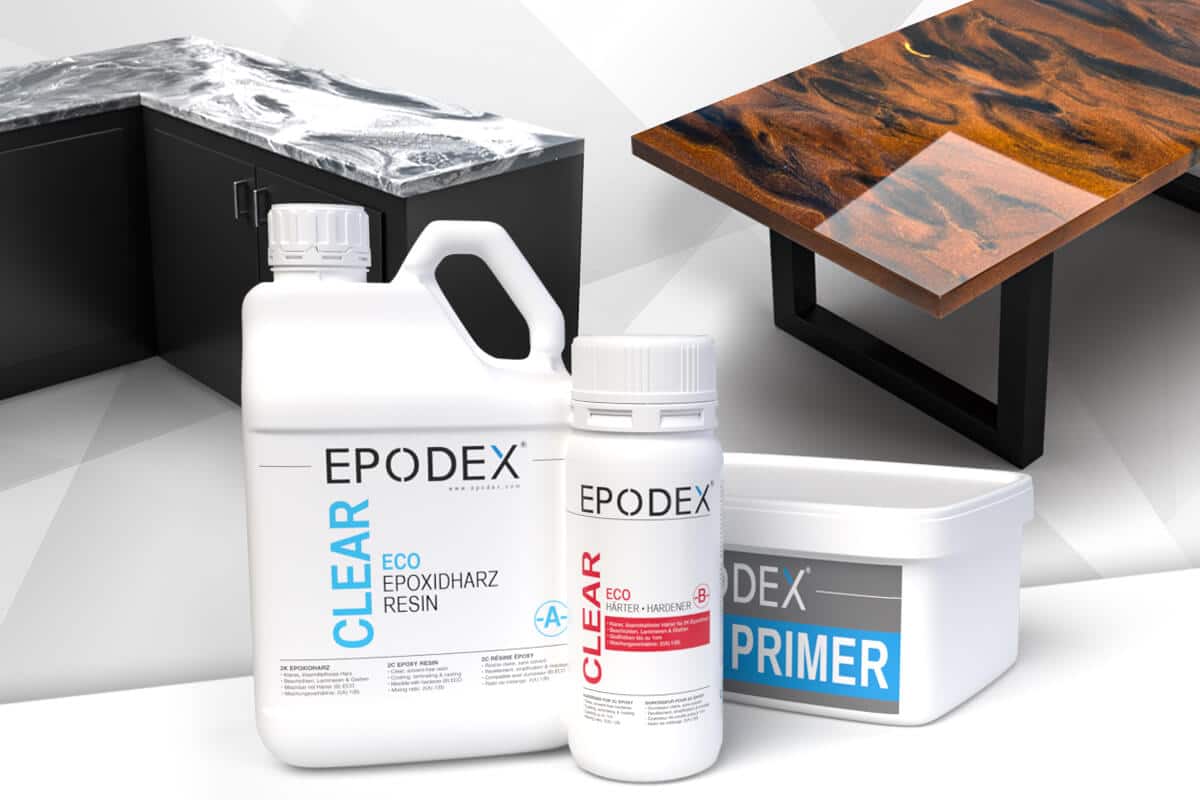 Epoxy Resin Table Coating
Would you like to design a unique table that's durable and easy to maintain? A coating with epoxy resin is the right choice! The synthetic resin is easy-to-process, cures firmly and is highly durable. It makes your table highly resistant to liquids, scratches, and stains.
An epoxy resin table does not require any special care. It can be cleaned with common all-purpose cleaners and remains as good as new. In contrast to untreated wooden tables, epoxy tables do not require regular maintenance. Epoxy resin table coatings are often used in restaurants and bars, where tables/countertops are subject to heavy wear and tear.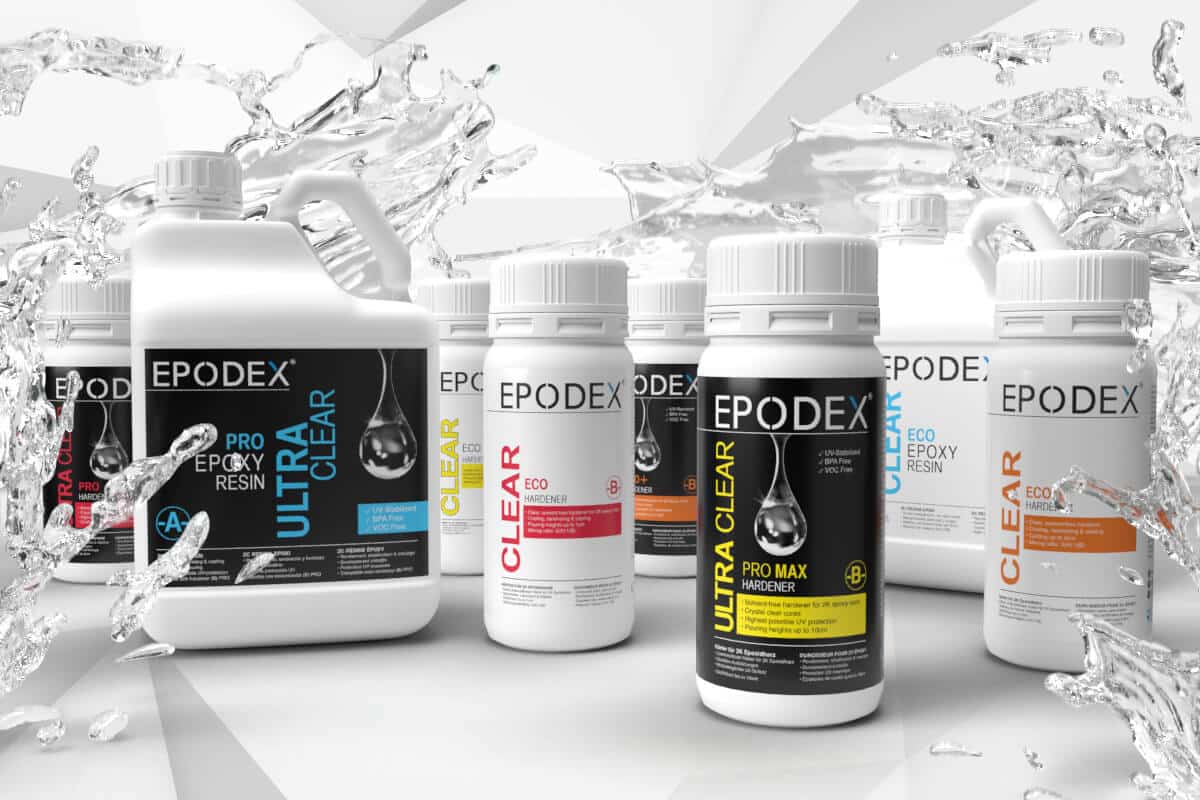 Resin systems
Shop all our epoxy resin systems here. The complete ECO series (ECO, ECO+ and ECO MAX), the PRO series (PRO, PRO + and PRO MAX) and much more.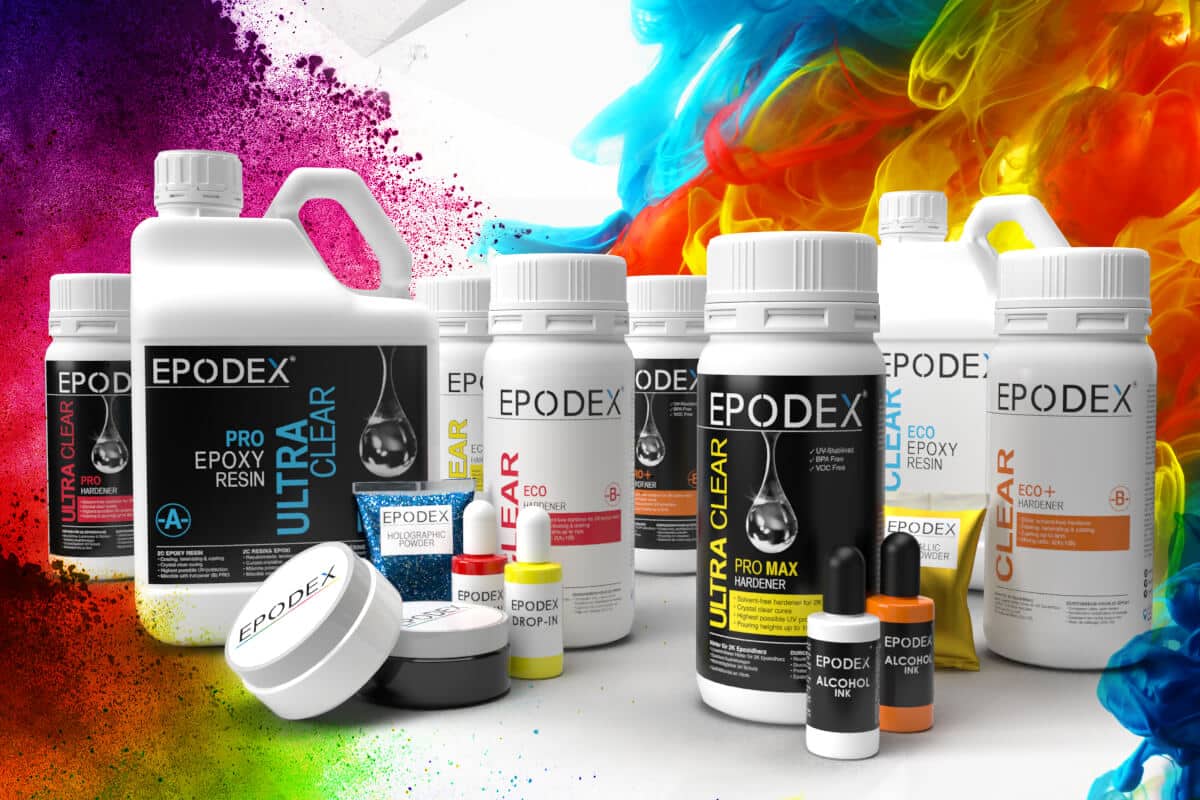 Epoxy Resins in Every Colour
Shop our epoxy resins systems in transparent or with all colours, including black, white, grey, blue, green, as well as many other shades here.
DIY Epoxy Resin Table
To make your own epoxy resin table you must first measure the size of your table and decide on the layer thickness you would like to apply. You can calculate the exact quantity you will need with our epoxy calculator. Depending on the required quantity, you can then choose the ideal resin kit for your table. Our kits always consist of resin & hardener.
With epoxy resin, you can easily customize your table, counter, or worktop and make them more durable for everyday wear. It can be cast into nearly any shape and dyed in any colour. In addition to clear epoxy, we also offer a wide range of colour pigments that can be mixed into the clear epoxy resin. There are no limits to your creativity!
You can apply our coating resin to wood and many other materials. No matter your choice of coating a natural wooden table, or making an epoxy resin table with bright colours & various highlights it can be easily done with epoxy resin by EPODEX!
More than
314,000+
Satisfied costumers
Website very informative, product selection is also very interesting, the order was also delivered in a few days.
01.11.2021
Everything great! Especially the telephone contact. I would find it helpful if more videos were included. Explanations of what you have to consider.
13.10.2021
There was a small problem with my last delivery, which was fixed immediately after a short call without any problems.
22.09.2021
Transparency
Quality
Customer Service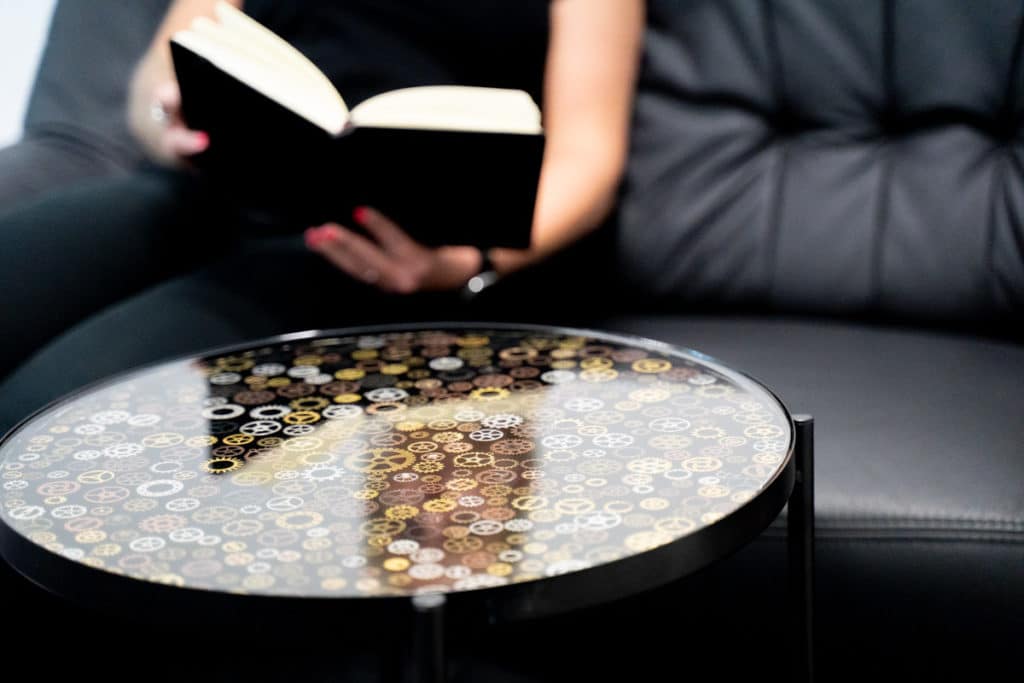 How-To Coat an Epoxy Resin Table
Make your own epoxy resin table in a few easy steps. First, thoroughly clean the table to be coated and let it dry. Then, mix the resin with the hardener in a 2:1 ratio for about three minutes. To avoid the formation of bubbles mix slowly. Epoxy resin is best applied with a squeegee or paint roller.
We highly recommend that you first apply a 0.2 to 0.5mm thin layer of epoxy primer and allow it to cure. This layer seals your table and prevents material loss. In addition, the primer prevents air from penetrating into the resin, resulting in bubbles. The step is especially recommended for absorbent surfaces such as wood. After the primer has cured,  apply a layer of epoxy resin.
For layers of 1cm or less, we recommend EPODEX ECO. For transparent layers up to 2cm thick use EPODEX PRO. For layers over 5cm use the EPODEX PRO+.
Detailed instructions can be found on these product pages.