Revamp your old tiles easily with tile paint
With EPODEX Tile Paint, you can revamp your old tiles and save yourself time-consuming renovations. Choose now between our Tile Paint 1K for normally stressed tiled walls and our Tile Paint 2K for floors and heavily stressed wall tiles, as well as for tiles with permanent water contact and standing water, e.g., in showers.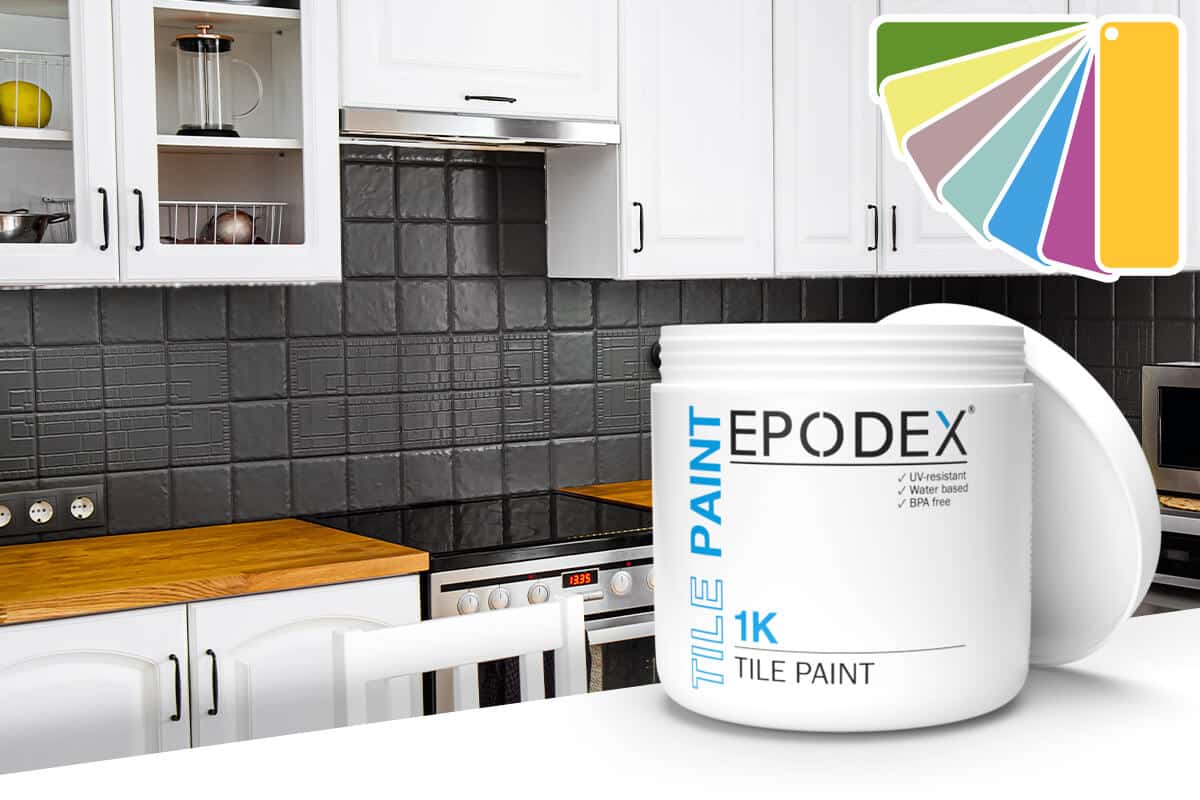 TILE PAINT 1K
For wall tiles exposed to normal wear and tear, without permanent water contact.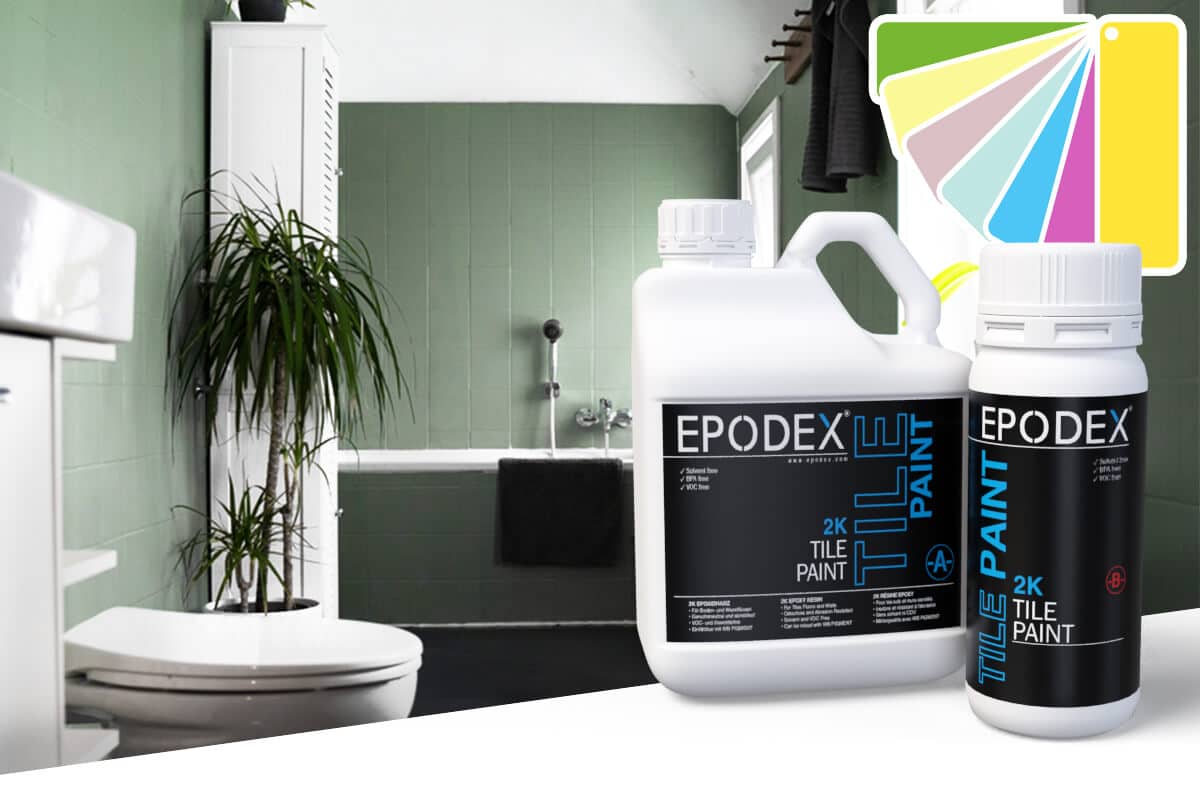 TILE PAINT 2K
For heavily used wall and floor tiles as well as tiles with permanent water contact.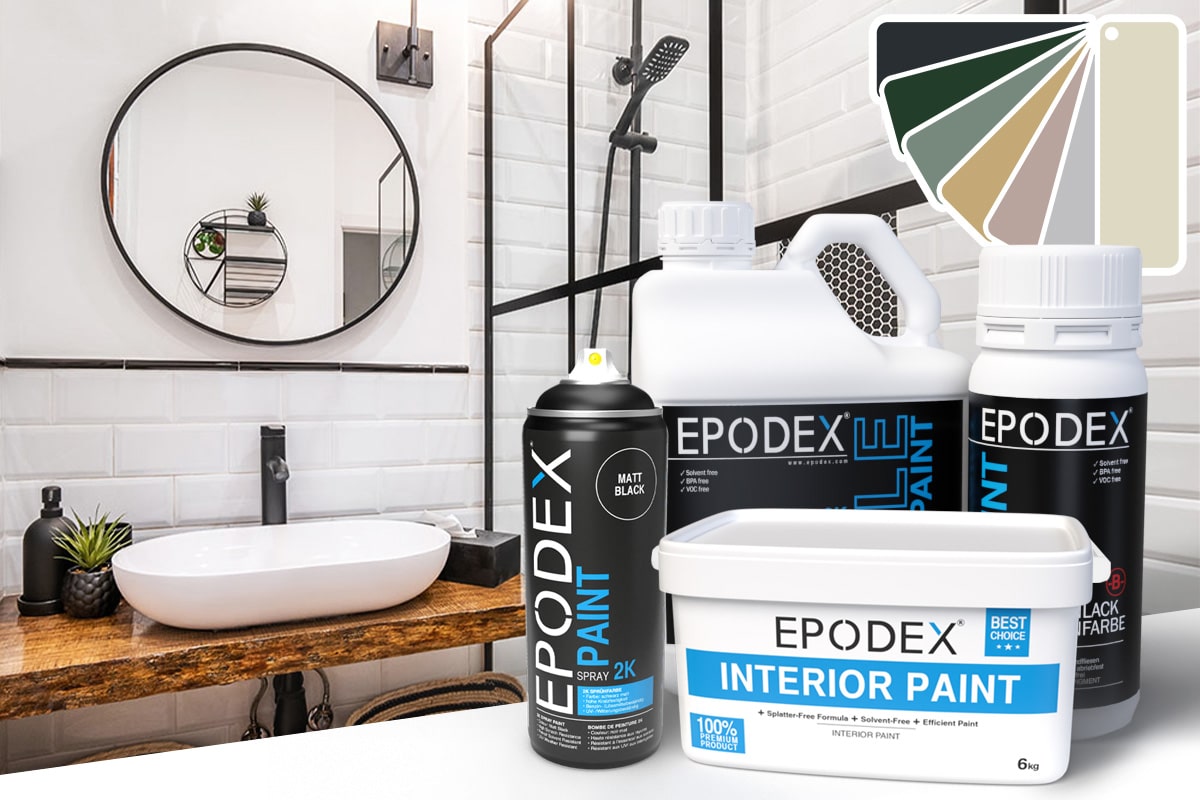 EPODEX Tile Paint: Easy Application for a Perfect Result
You don't like the old tiles in your kitchen anymore? Do you want to renovate your bathroom without much effort? Then EPODEX has a practical and affordable solution for you! We offer professional paints with which you will not recognise your old tiles. The application is very easy and can also be done by laymen. So, there is no need for a high craftsman's bill if you choose our products.
All you must do is consider whether you need TILE PAINT 1-K acrylic-based paint (for walls without permanent water contact) or TILE PAINT 2-K epoxy-based paint (for floor tiles and heavily used tiles with permanent water contact). All our colours are inter-mixable so you can achieve exactly the shade you want.
More than
1000000+
Satisfied costumers
Website very informative, product selection is also very interesting, the order was also delivered in a few days.
01.11.2021
Everything great! Especially the telephone contact. I would find it helpful if more videos were included. Explanations of what you have to consider.
13.10.2021
There was a small problem with my last delivery, which was fixed immediately after a short call without any problems.
22.09.2021
Transparency
Quality
Customer Service
Repaint Tiles
It is important to prepare your tiles properly before painting them. Before you start, make sure your tiles are intact, preferably without cracks or breaks. Damaged tiles should be repaired beforehand, for example, with an epoxy filler.
In principle, the tiles should be lightly sanded with sandpaper and then cleaned before being painted on. To ensure that the paint adheres perfectly and that the result is durable, the surface must be rough, clean, and free of grease. Apply EPODEX TILE PAINT following the instructions on each product page.
Not all joints tolerate tile paint
Unlike, for example, a completely seamless floor made of epoxy resin, tiled walls and floors have joints that cannot be ignored. There are differences to be taken into account: Silicone joints cannot be painted over with paint because it does not adhere to them. It is therefore advisable to remove silicone joints completely before painting and to renew them afterwards.
The situation is different with acrylic joints. These can be painted over without any problems. Grout joints made of mortar can also be painted without any problems. Depending on the size and shape of the tiles, it is advisable to apply the tile colour with a more or less large paint roller. A fine brush can be used for joints and corners.
Tile paint for wall and floor tiles
Our products have high opacity, so one or two coats are usually enough to make your tiles look new. If there are large colour differences, for example, if you paint dark tiles white, further coats may be necessary. Eventually, the transformation will be perfect, and you can enjoy your new bathroom or kitchen – without any dust or noise!
You should bear in mind that not all tile is the same. Our 2-component paint should be used on the tiled floor. Floor tiles are exposed to heavier loads, which is why not all paints are suitable for painting floor tiles. For wall tiles, a 1-component paint is sufficient, provided the wall is not in constant contact with water.