Easy to Use Garage Floor Paint
Thinking of pouring a synthetic resin garage floor paint yourself, but you do not know exactly how and what products to use? On our website, you can find valuable tips for an easy application of our garage floor coating. You can also find all the products required for your project in our online shop. In our large selection, you are sure to find the right resin for an attractive and durable garage floor.
Discover our wide range of colours and let yourself be inspired!
The Right Resin for a Perfect Garage Floor Coating
Not all resins are identical! The industry offers different synthetic resins. From epoxy resins to polyester resins and polyurethane resins, all types of resins have different properties and are more or less suitable for certain applications such as garage floor paint.
A conventional garage floor is usually coated with epoxy resin or polyurethane resin. In most cases, both types of resin are directly used as garage floor paint. The advantage of the epoxy resin is its ease of application, its high wettability and its mechanical and chemical resistance. In addition, the epoxy resin is solvent-free and odourless even during processing. An epoxy floor is therefore not only ideal for a garage but is also often used as industrial flooring.
However, the epoxy resins also differ greatly from each other. The chemical composition and use of various additives such as defoamers reduce the formation of annoying bubbles and foam during application and improve the treatment and final casting pattern of your garage floor paint.
How to Use Our Garage Floor Paint
The secret of a perfect garage floor coating lies in the structure of the layer. To cast with our garage floor paint resin, the surface to be poured must be levelled, without holes or joints and free of dirt. If you want to cover an uneven floor or a tiled floor, we recommend closing the unevenness and joints with putty. In the opposite case, the resin will settle in the recesses of the soil and will cause a greater consumption of material.
If the floor is absolutely straight, dry and free of dirt, begin applying a coat of primer to the floor. You can use a thin layer of garage floor paint resin as a primer. Always wear nitrile gloves while working with synthetic resin to avoid direct contact with the skin. Apply the garage floor paint to the floor using a foam roller or squeegee. Make sure that the roll has little flooring and that it is made of polyamide. The polyamide rollers are very wear-resistant and elastic and have a high load capacity. Other advantages are high abrasion resistance and chemical resistance to synthetic resin.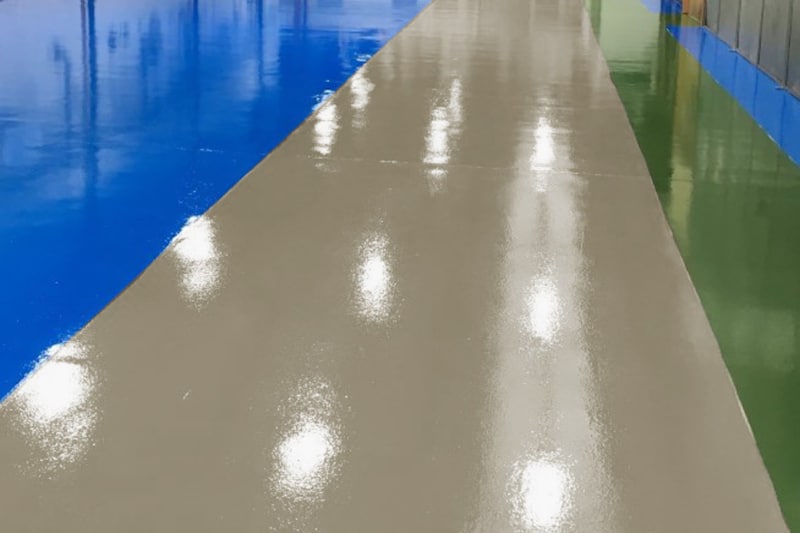 More than
314,000+
Satisfied costumers
Website very informative, product selection is also very interesting, the order was also delivered in a few days.
01.11.2021
Everything great! Especially the telephone contact. I would find it helpful if more videos were included. Explanations of what you have to consider.
13.10.2021
There was a small problem with my last delivery, which was fixed immediately after a short call without any problems.
22.09.2021
Transparency
Quality
Customer Service
Application of a Garage Floor Paint
Apply the garage floor paint resin in a thin layer on the floor. A layer thickness of 0.2 mm to 0.5 mm is generally sufficient to obtain an optimum primer. For very porous floors, such as parquet flooring, we recommend a topcoat. The primer closes the pores of the floor. This avoids too much material loss in the main coating. At the same time, less moisture and air penetrate through the pores, reducing the formation of bubbles and foam. The casting and brushing process can cause bubbles and foam to form on the material. Roll on the still wet garage floor paint with a spike vent roller and make sure all air bubbles are removed. Allow the primer to cure for at least 20 hours.
The primer will seal the surface of your garage floor and create a perfect base for the main siding. For the main coat, pour the garage floor paint onto the floor and spread evenly with a scraper or a varnish roller. To ensure an optimal coating, we recommend a layer thickness of 1.5 mm to 2 mm. Higher layer thicknesses are of course possible, but often unnecessary and unprofitable.
Sealing of the Garage Floor Coating with Polyurethane
Garage floor paint resin is largely resistant to scratches. But, harp objects, such as a stone under the shoe, can cause unwanted scratches. For absolute protection against scratches, apply a final layer of polyurethane resin to the garage floor coating. Unlike epoxy resin, polyurethane resin is scratch resistant. The polyurethane resin thus serves as a topcoat. Apply the polyurethane resin in a thin layer like the primer and allow it to cure for about 24 hours. After curing, you can immediately walk on your perfect garage floor paint and apply heavy weight on it such as a car after 3 days.