High-Quality Coating Resins
Whether your looking to coat tables, furniture, kitchen/bartops or floors, EPODEX coating resins are always the best choice for your next project! It is self-levelling, fast-curing and produces the finest possible finish. For example, with our coating resins you can create smooth & glossy finishes on wood or concrete surfaces.
They are compatible with a numerous amount of our colour pigments allowing you room to get really creative.
Discover our wide range of epoxy colours!
Coatings Resin For Your Next Project
You can use our coating resins for all projects that require a relatively thin and even surface. This applies both to larger areas such as floors and to small projects like jewellery or resin art. You can calculate the exact amount of coating resin you need with our epoxy calculator.
An epoxy coating can be applied to a variety of surfaces. It gives the coated area a glossy, sturdy scratch-resistant finish which protects the surface from moisture and material deterioration. These features make EPODEX products an excellent choice for all kinds of projects.
Coating Resin & Epoxy Primer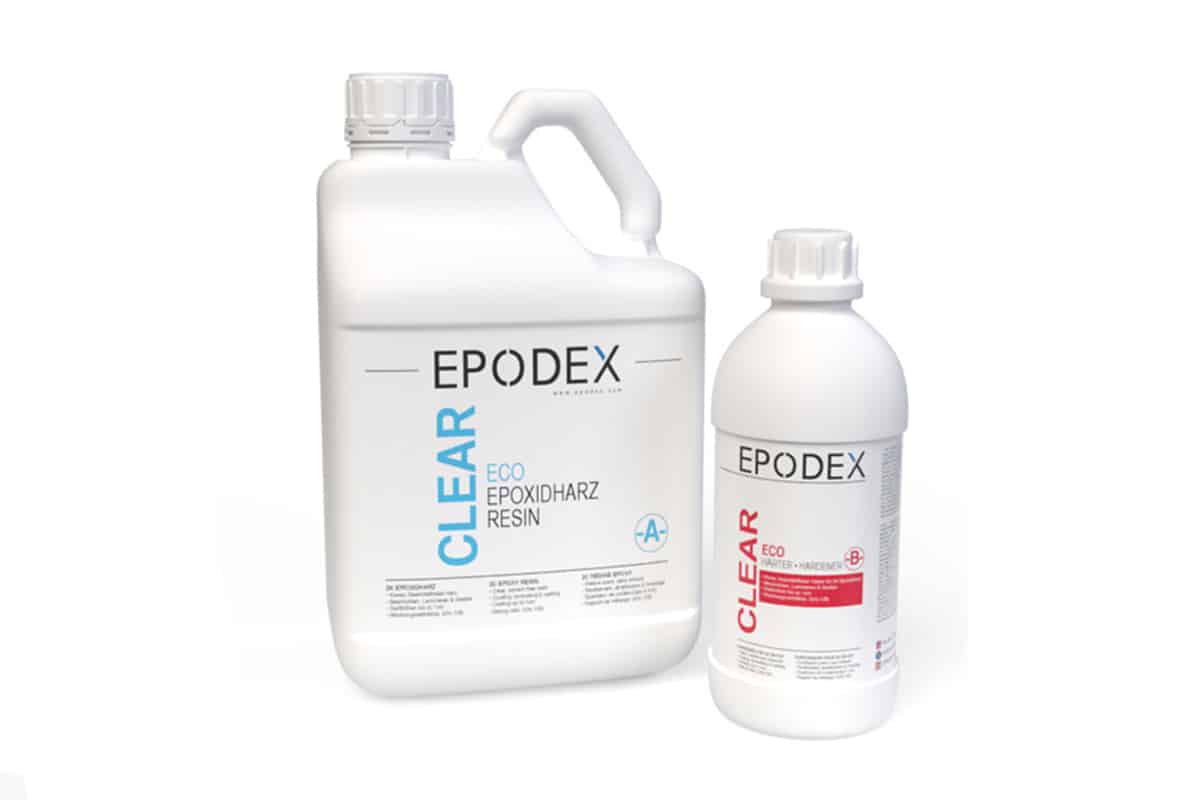 ECO System (Resin+Hardener)
Resin to coat, laminate and repair
Application: Pour or Paint on
Layer thickness: 0,1-1cm
Clear, frost stable and BPA-free
Use: Coating (floor, table etc.), making of terrarium/aquarium, stone carpet, jewellery making and much more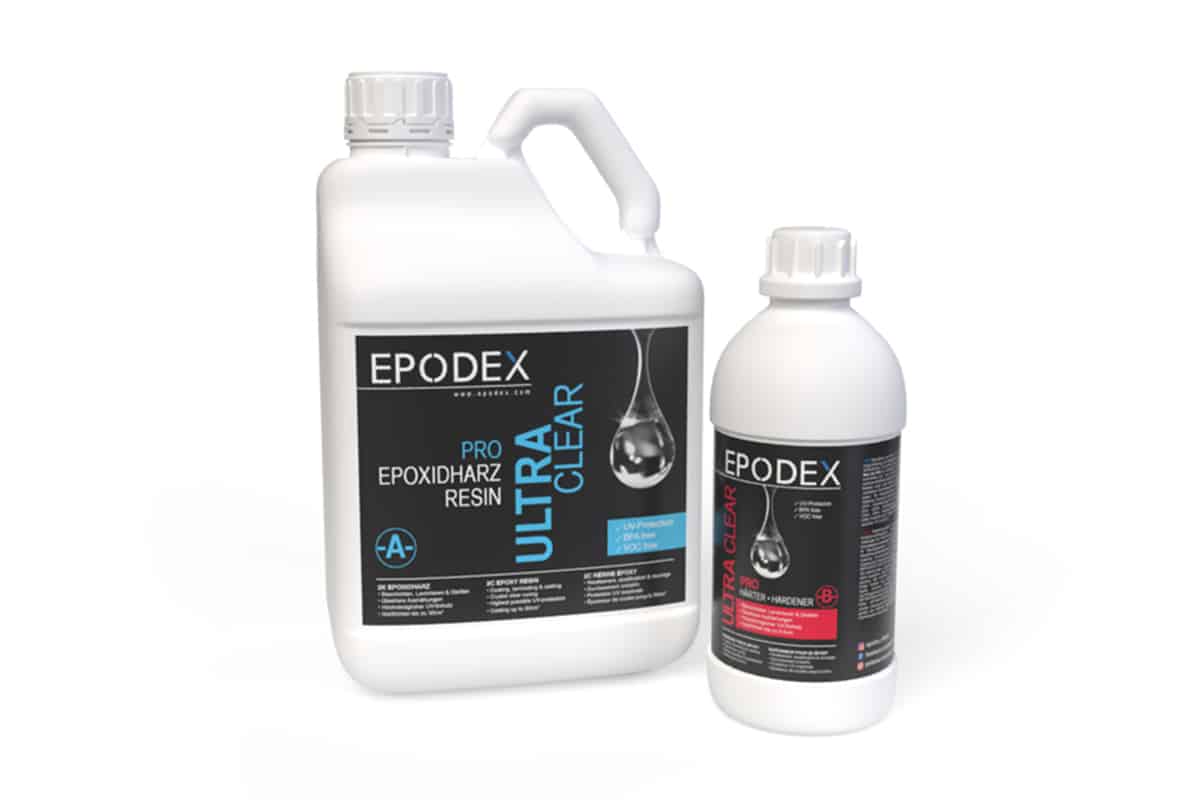 PRO System (Resin+Hardener)
Coating and casting resin
Application: Pour or Paint on
Layer thickness: 0,1-2cm
Crystal clear, UV stabilised, VOC- and BPA-free
Use: Coating (floor, table etc.), jewellery and decorative object making, artwork sealing and much more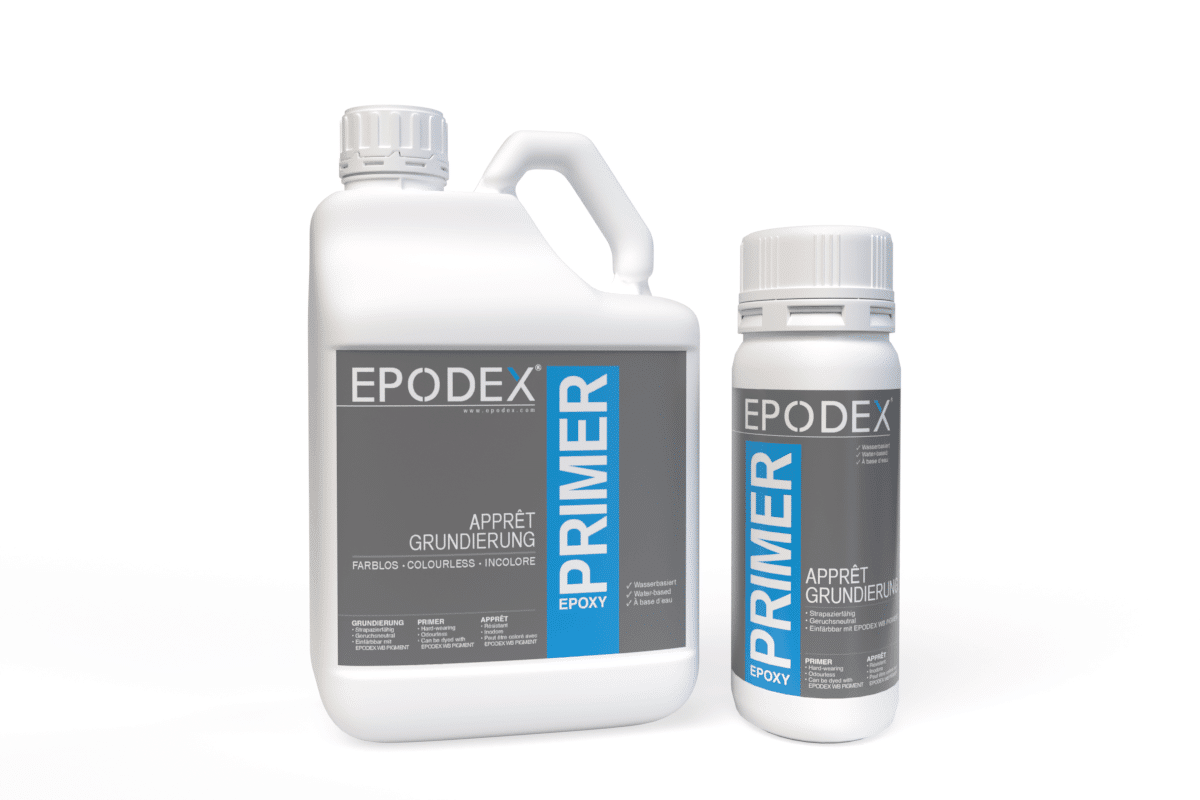 EPOXY PRIMER System
Primer suitable for epoxy resin coatings
Application: Paint on with a paint roller
Layer thickness: approx. 0,3mm
Odourless 1-Component System
Use: Primer for floorings, walls and other surfaces
First Prime, Then Coat
It is recommended to prime the surface before you begin coating with resin. We recommend the SEALER & PRIMER, which consists of resin and hardener. The desired colour paste can be added after mixing the resin and hardener in the appropriate ratio. Please make sure that the resin-hardener-mixture is free of streaks and must be then poured it in a clean mixing jug or plastic roller tray. You can also add 30-50% water to dilute the mixture, which makes it easier to apply. This comes in handy when working with larger areas at high temperatures.
More than
314,000+
Satisfied costumers
Website very informative, product selection is also very interesting, the order was also delivered in a few days.
01.11.2021
Everything great! Especially the telephone contact. I would find it helpful if more videos were included. Explanations of what you have to consider.
13.10.2021
There was a small problem with my last delivery, which was fixed immediately after a short call without any problems.
22.09.2021
Transparency
Quality
Customer Service
How-To Apply Coating Resin
You can apply the epoxy primer to the surface to be coated with a foam roller. It seals the surface and prevents high material-loss. Afterwards, you must allow the primer to cure, until it is no longer sticky. Then continue in the same way with a coating resin like EPODEX ECO or EPODEX PRO. To colour the main coating, mix the colour pigments with the resin or the resin-hardener-mixture and adjust the colour intensity by adding more or less pigments. We recommend adding ca. 1,5% colour pigments to the mixture.
Cast the coating resin to the surface immediately after mixing, as it can boil up in the mixing jug after some time. Work in highlights such as circles, lines or marble patterns if you wish. You can also include embedments such as stones or pennys. When the coating has cured, you can apply a final layer of clear epoxy or polyurethane varnish as a topcoat to increase the scratch-resistancy.