Epoxy 3D Flooring
The 3D effect in a 3D floor is achieved by embedding small objects or pictures in the floor coating. You can use effect flakes, dried flowers, pictures, natural elements or stones, for example. Alternatively, you can cast special depth effects. There are no limits to your imagination when laying an epoxy 3D floor. Everything is possible with EPODEX! From clear resin and solid colour pastes to metallic colours: Discover the wide range of products in our online shop.
3D Floor Made of Epoxy Resin
If you want to install an 3D floor, high-quality casting resin like EPODEX PRO is the best choice. You can easily embed small elements in our casting resin. Because it is self-levelling, you always get a perfectly even floor. Furthermore, it is scratch-resistant and UV-stable. As a primer for your epoxy 3D flooring we recommend EPODEX Sealer + Primer. To find out, how much epoxy resin you need for your individual 3D floor, you can use our epoxy resin calculator. In our shop you will find flakes to embed in the floor. They do not only provide a 3D effect, but also high tread resistance. Besides flakes we offer you numerous colour pigments for your 3D floor.
Install an Epoxy 3D Flooring
Basically, laying 3D floors works just like any other floor coating. The main difference is that you embed objects between the layers.
Before you start, you should clean the floor and repair any cracks or holes with epoxy putty, for example. Then you seal the floor according to the instructions with EPODEX Sealer + Primer, which serves as a floor sealant and lays a perfectly even base for the work to come. Allow the epoxy primer to cure completely before continuing.
Next, you cast a layer of the self-levelling epoxy resin that serves as a support layer for the objects. Make sure that you add the objects only after the resin has gelled a while. Otherwise, they may sink and thus destroy the desired 3D effect. When the resin has reached the right viscosity, you can embed the objects, seal them with a very thin resin layer and wait until it has cured completely. Afterwards, you apply one final layer of casting resin. Please adhere to the specified curing time and allow the floor to cure completely before you step on it. It is advisable to wear spiked soles, a dust mask and gloves during the whole process.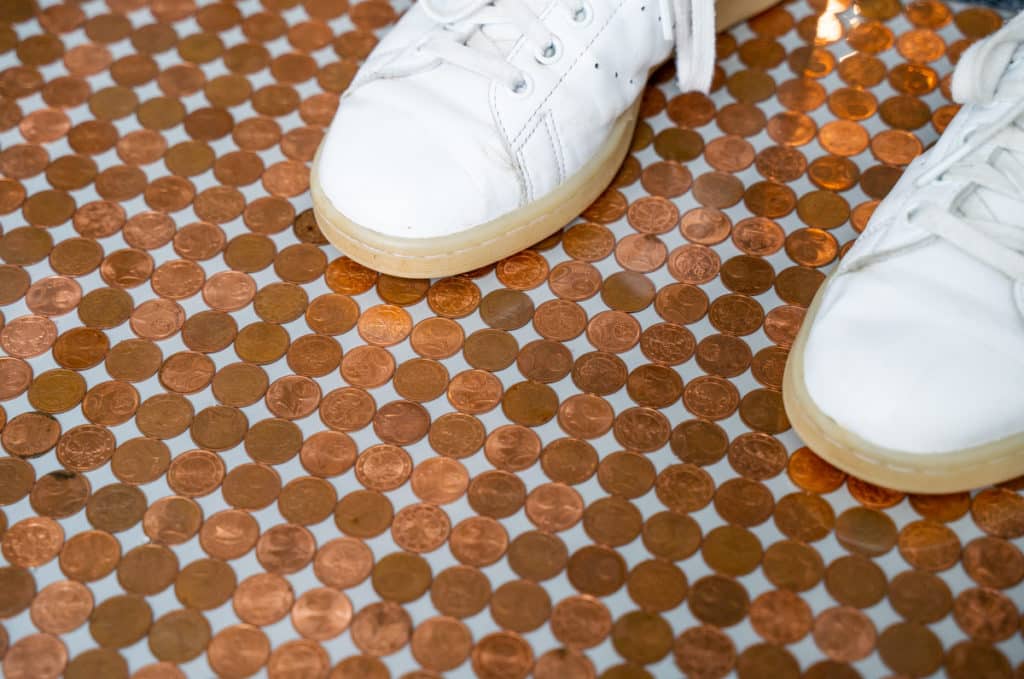 ProvenExpert

TOP ratings
˂
Everything great! Especially the telephone contact. I would find it helpful if more videos were included. Explanations of what you have to consider. 03.10.2020
There was a small problem with my last delivery, which was fixed immediately after a short call without any problems. 01.09.2020
Website very informative, product selection is also very interesting, the order was also delivered in a few days. 22.08.2020
˃
3D Flooring in Your Bathroom
For a 3D floor in a bathroom or other highly humid rooms, we recommend using EPODEX Sealer + Primer as a prime coating. This way, you can be sure to close all pores and prevent material loss. EPODEX ECO or PRO are options, too, because once they have cured they are resistant to moisture. During application and curing time you have to ensure a low air humidity of maximum 70% and a constant room temperature of around 20°C, nevertheless. Design a 3D floor for your bathroom now and make your dream of a unique floor coating come true!
We Support Your 3D Floor Project
Do you have any questions about our products or do you need help with your epoxy 3D floor? We are here for you! Our experts will support you from the planning stage to the implementation. We develop ideas and give you valuable tips for your 3D flooring. Contact our support by phone, e-mail or WhatsApp.