Epoxy resin floors
Are you looking for the high-quality epoxy resin to coat your floor?
Then you have come to the right place! Whether it's an industrial floor, a garage floor, or the flooring in your living room – EPODEX epoxy resin is ideal for any floor coating.
Discover our three colour categories now and order your epoxy resin set:
Epoxy resin floors for industry and commerce
Epoxy resin is perfect for coating busy floors. Our two-component epoxy resin floor provides an optimal seal and protects your floor from abrasion and breakage. Therefore, Epoxy Resin, like some other synthetic resins, is the ideal flooring for industrial halls, hospitals, retail outlets or car showrooms. It seals floors that are exposed to heavy loads from forklifts, excavators, or cars.
Our formulation also allows for easy and hygienic cleaning. These properties make epoxy flooring attractive for use in commercial kitchens, butchers, abattoirs, wine presses and premises exposed to water. An epoxy floor has a smooth, seamless appearance and is still slip-resistant. By using first-class raw materials, our epoxy resin offers slip resistance even on wet floors. The material is slip-resistant and prevents dust formation. This makes it ideal for use in production and industrial halls. Our formulation allows the epoxy resin floor to be waterproof or open to diffusion.
ECO System (Epoxy Resin + Hardener)
Resin to coat, laminate and repair
Application: Casting and Laminating
Layer thickness: 0,1-1cm
Clear, frost stable and BPA-free
Use: Coating (floor, table etc.), making of terrarium/aquarium, stone carpet, jewellery making and much more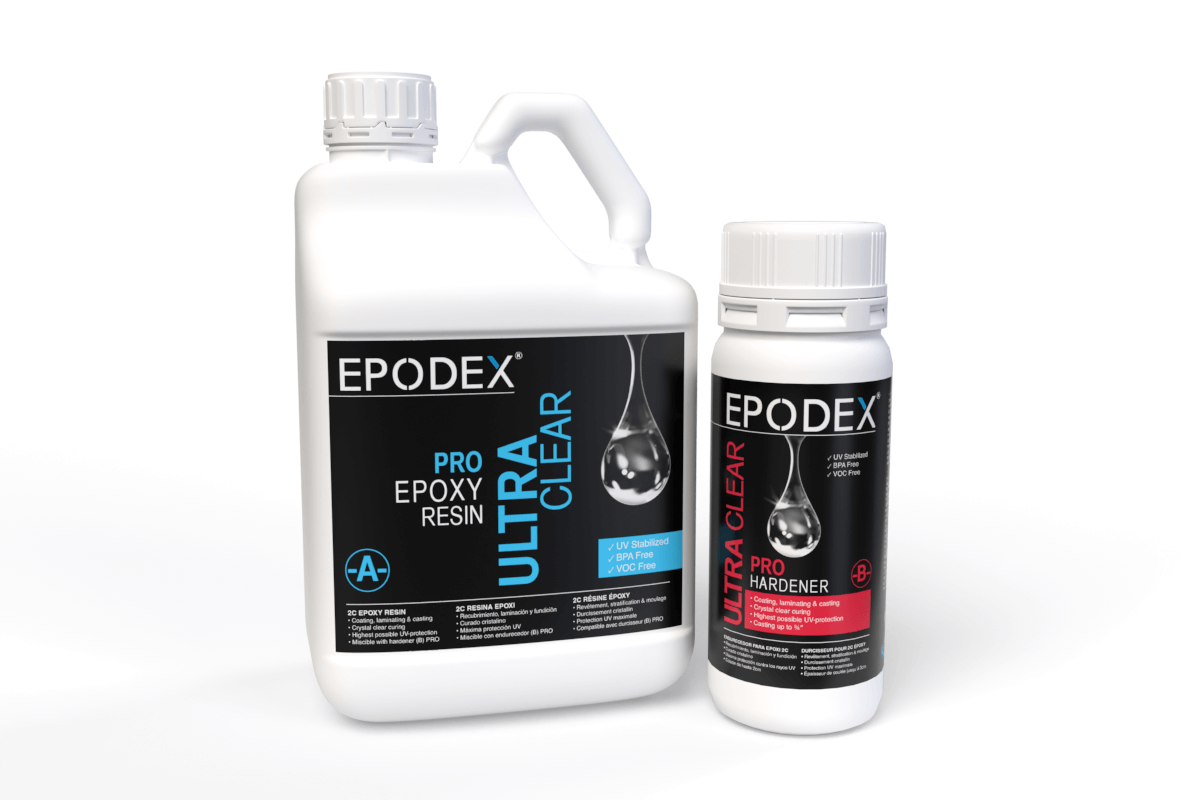 PRO System (Epoxy Resin + Hardener)
Coating and casting resin
Application: Casting and Laminating
Layer thickness: 0,1-2cm
Crystal clear, UV stabilised, VOC- and BPA-free
Use: Coating (floor, table etc.), jewellery and decorative object making, artwork sealing and much more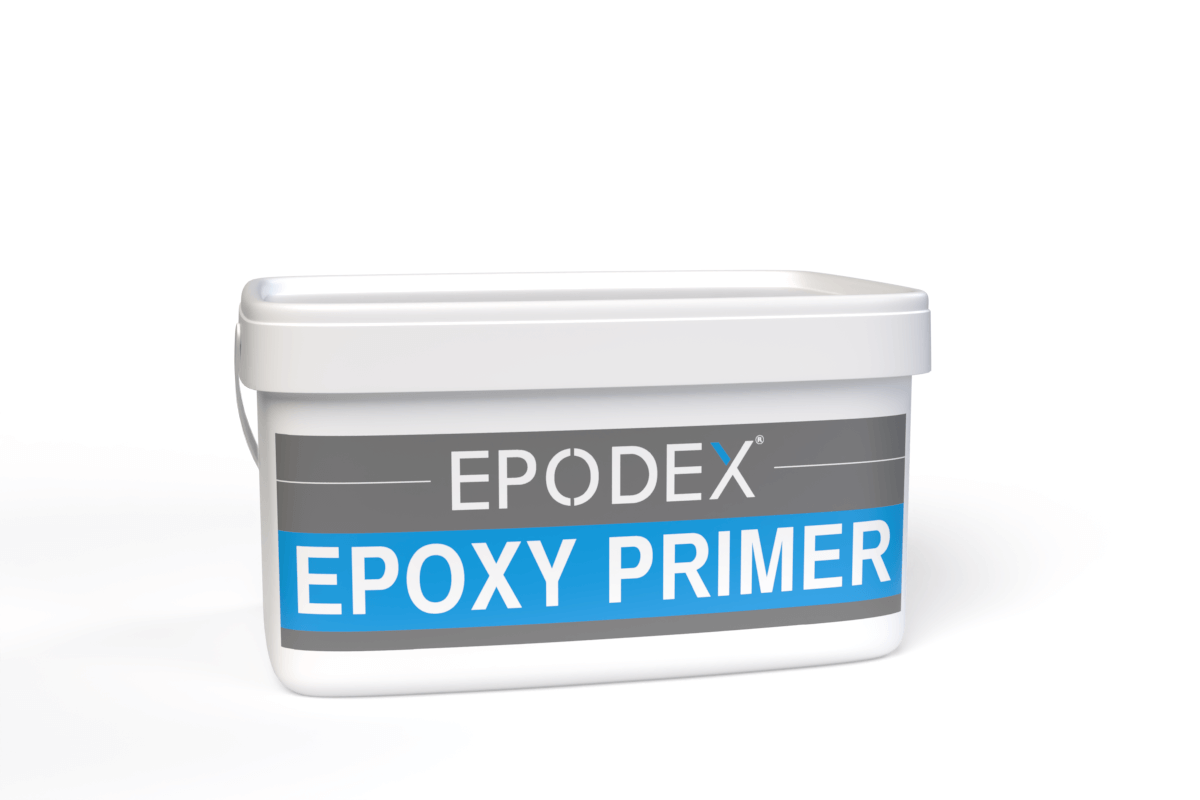 EPOXY PRIMER System
Primer for Coatings with Epoxy Resin
Application: Paint on with a Paint Roller
Layer Thickness: Approx. 0,3mm
1 Component System, Odourless
Use: Priming of Floors, Walls and Other Surfaces
Epoxy resin floors in houses, conservatories, and garages
Epoxy resin is not only bought by tradesmen and industrial companies. On the contrary, synthetic resin is also becoming a real trend product in the private sector. This is mainly due to its unique appearance and easy processing. Cast resin is increasingly being used for sealing and finishing floors and furniture such as tables and cupboards.
You can also benefit from the positive properties of epoxy resin in your home. The coating makes your cellar or garage floor resistant to stress and easy to clean. In the conservatory, an epoxy resin floor is low-maintenance and in your living rooms, too, you will be convinced by the easy processing and the practical product properties. There are hardly any limits to your creativity. With our large selection of epoxy resin colours, numerous design options are open to you.
Choose an epoxy resin floor in a plain colour or in a stylish metallic colour. The individual colours can be combined with each other. By combining different colours, you can achieve stunning effects and give your flooring a distinctive look.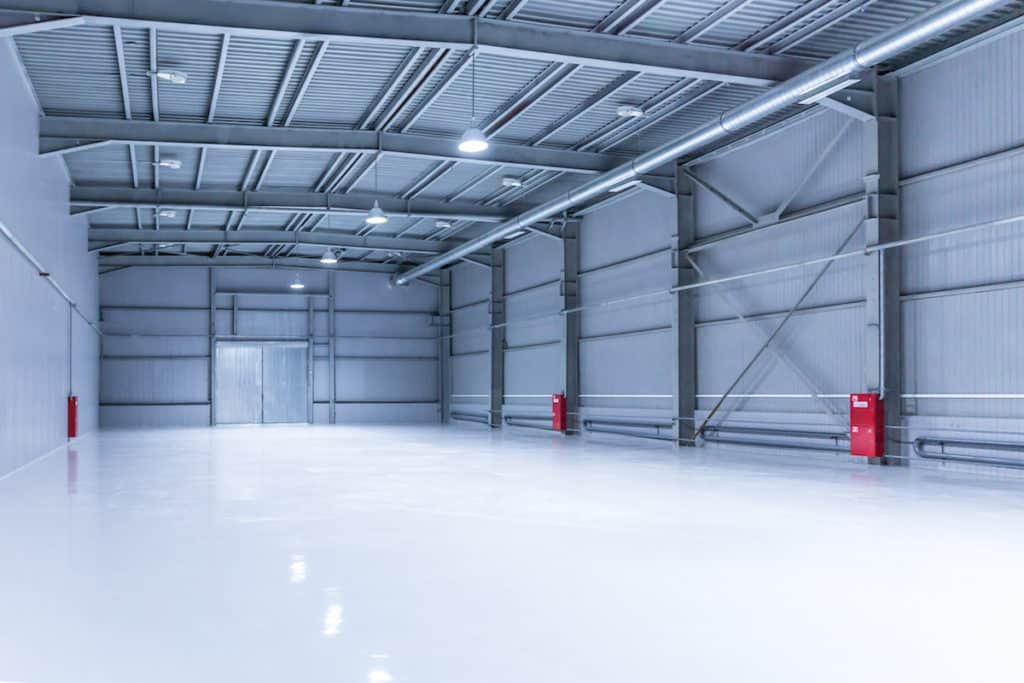 More than
314,000+
Satisfied costumers
Website very informative, product selection is also very interesting, the order was also delivered in a few days.
01.11.2021
Everything great! Especially the telephone contact. I would find it helpful if more videos were included. Explanations of what you have to consider.
13.10.2021
There was a small problem with my last delivery, which was fixed immediately after a short call without any problems.
22.09.2021
Transparency
Quality
Customer Service
Buy epoxy resin floors from Epodex
EPODEX epoxy resin is chemical resistant and easy to apply without clumping. This allows you to create a clean and visually appealing epoxy resin floor covering.
The purchase of large quantities of raw materials and the use of state-of-the-art production facilities enable us to purchase cost-effectively and produce efficiently. We are happy to pass on these cost advantages to you through low prices. An epoxy resin floor should be worthwhile for you. That is why we guarantee the best price-performance ratio.
Do you have questions about our products, or would you like detailed advice?
Contact us by e-mail, WhatsApp or give us a call. We will be happy to help you so that nothing stands in the way of your new epoxy resin floor!
Individualise and refine your epoxy floor with colours
In addition to the floor coating with clear and coloured epoxy resin, you can also incorporate decorative elements into your floor. This creates a unique design floor in your home! With our decorative flakes, which are sprinkled into the still-wet epoxy resin, you can achieve 3D effects. Glass granulate is suitable for making the subfloor particularly slip-resistant. Another popular trend is the so-called penny floors, where penny pieces are placed on the floor and covered with epoxy resin. This creates a mosaic effect that is particularly popular in the bathroom.
Epoxy resin is not only excellent for coating floors. It is also suitable for many other purposes. You can find ideas for your next project here: Epoxy Resin Crafts