Epoxy Resin for Concrete
Epoxy resin perfectly seals all surfaces and protects them from chemicals and abrasion, among others. Using a combination of concrete and epoxy resin results in extremely hard surfaces with long-lasting durability. At EPODEX you get the ideal synthetic resins to coat concrete-like floors, ceilings, terraces or roofs.
Epoxy Resin Offers Many Advantages
Epoxy resin is an ideal sealant for concrete surfaces since it allows extremely strong bonds with the concrete. If you coat your concrete surface with epoxy resin, you will achieve the perfect combination of a minimalist industrial look and ideal surface properties. A surface coated with epoxy resin is a step-and scratch-resistant, glossy and resistant to chemicals. You can easily clean an epoxy resin layer with standard commercial cleaners.
Sealing concrete with epoxy resin with crucial and should always be done with our EPOXY PRIMER on even surfaces, as concrete is a very absorbent material. This prevents high material loss thus saving you money.
ECO System (Epoxy Resin + Hardener)
Resin to coat, laminate and repair
Application: Casting and Laminating
Layer thickness: 0,1-1cm
Clear, frost stable and BPA-free
Use: Coating (floor, table etc.), making of terrarium/aquarium, stone carpet, jewellery making and much more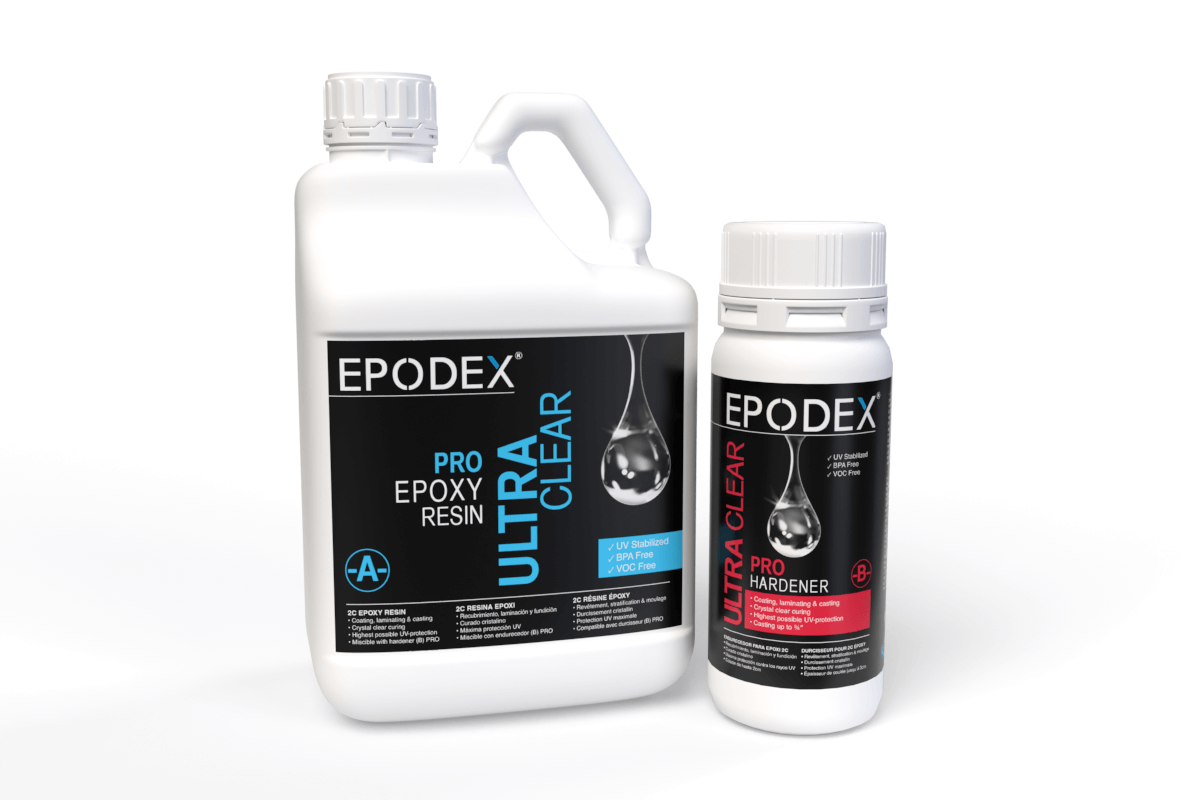 PRO System (Epoxy Resin + Hardener)
Coating and casting resin
Application: Casting and Laminating
Layer thickness: 0,1-2cm
Crystal clear, UV stabilised, VOC- and BPA-free
Use: Coating (floor, table etc.), jewellery and decorative object making, artwork sealing and much more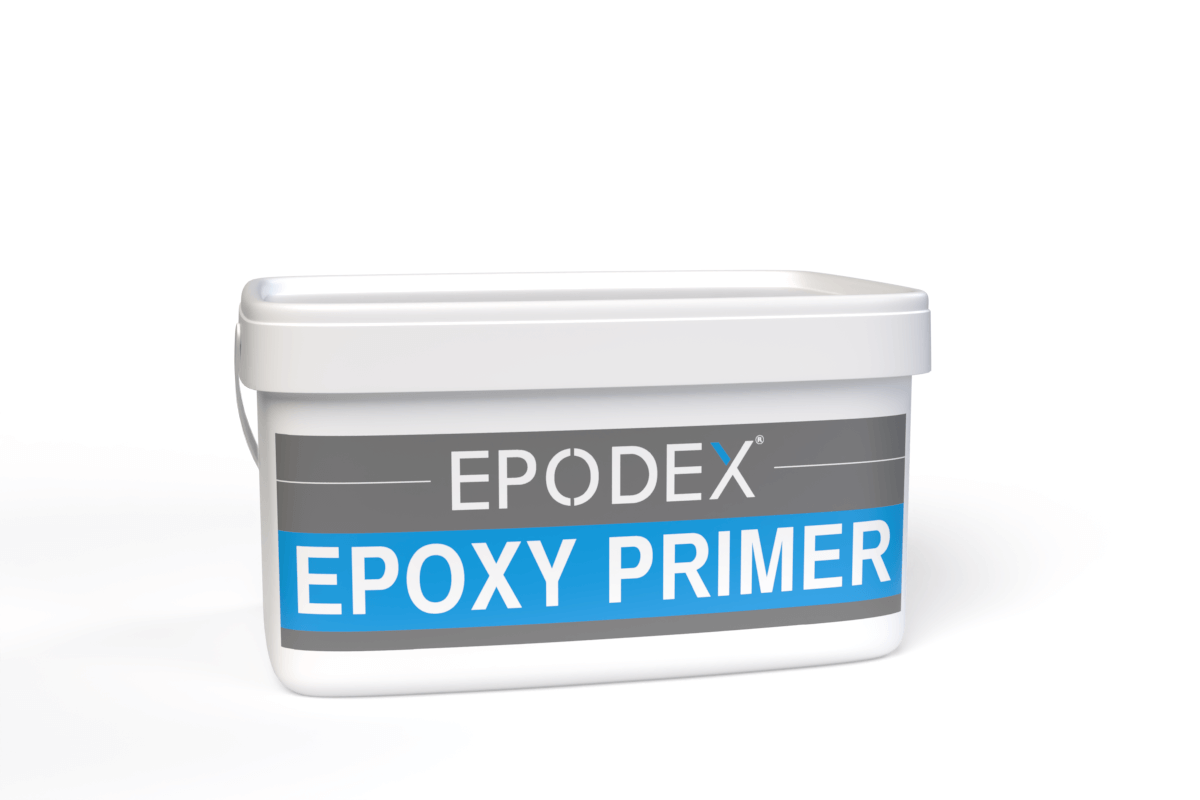 EPOXY PRIMER System
Primer for Coatings with Epoxy Resin
Application: Paint on with a Paint Roller
Layer Thickness: Approx. 0,3mm
1 Component System, Odourless
Use: Priming of Floors, Walls and Other Surfaces
Seal a Concrete Floor with Epoxy Resin
Concrete is often used for floors in garages, industrial buildings or outdoor areas, where it is exposed to high tear and wear. Concrete is a very hard, well insulating material, but not shock-resistant or resistant to contaminants and chemicals. This can cause cracks or holes and it is problematic to remove oil stains from concrete. By sealing concrete with epoxy resin you get a floor that is easy to maintain and hard-wearing.
Applying epoxy resin to a concrete floor is very easy. You start by repairing any cracks and holes. Then you apply EPODEX Epoxy Primer to the floor with a foam roller. Then add a layer of casting resin to the sealed floor. We recommend EPODEX PRO for this because it is highly scratch resistant and UV-stabilised. Therefore, it is also suited for outdoor use. Follow our step-by-step instructions for a floor coating and do not walk on the floor until it is completely cured.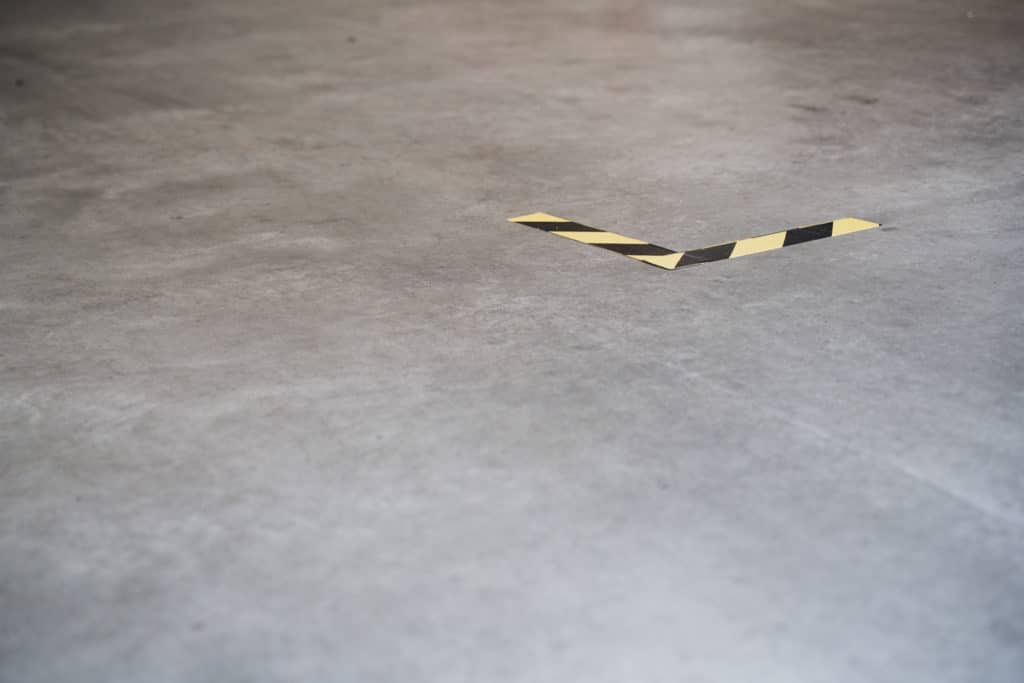 More than
314,000+
Satisfied costumers
Website very informative, product selection is also very interesting, the order was also delivered in a few days.
01.11.2021
Everything great! Especially the telephone contact. I would find it helpful if more videos were included. Explanations of what you have to consider.
13.10.2021
There was a small problem with my last delivery, which was fixed immediately after a short call without any problems.
22.09.2021
Transparency
Quality
Customer Service
Epoxy Concrete Repair
With epoxy resin you can easily repair concrete. Epoxy putty, for example, is ideal to fix holes, cracks, or breakages. It usually works better than putty made of cement or plaster. Epoxy putty cures quickly, is easy to sand, and water resistant. It can also be used to repair very fine cracks and small holes, which would be hard to fix permanently with conventional filler. And you can also use it to repair drill holes and walls.