TILE PAINT 1K | Violet and Pink Colours
from £ 24.99 inc. VAT
Delivery time: 1-3 working days
Area of application: Normally stressed wall tiles without permanent water contact, e.g., in showers.
Note: For heavily stressed wall and floor tiles, as well as tiles with permanent water contact, we recommend our waterproof Tile Paint 2K.
Gloss level: satin
Properties: low odour, abrasion-resistant, UV-resistant, high coverage
Consumption: 120-150g/m²
Working time: approx. 180min.
EPODEX 1K Tile Paint
EPODEX 1K Tile Paint is a water-based, low-odour acrylic paint. The paint is ideal for coating wall tiles. The good adhesion properties ensure easy application and a perfect result.
Paint your wall tiles yourself now at a low cost. For more inspiration on which colour to use and matching accessories, watch our designer's tutorial!
Instructions for use - STEP BY STEP
Sand the tiles with sandpaper.
Cover/tape off surfaces that are not to be covered with a plastic drop cloth and masking tape.
Pre-clean and degrease tiles with the EPODEX PRE-CLEANER.
Mix the tile paint thoroughly.
Apply the material and allow it to dry. Working time: approx. 2 hours at 20°C.
Apply further coats until the desired opacity is achieved. We recommend approx. two coats.
If desired, retouch the tile joints with the EPODEX grout pen and ruler.
EPODEX GROUT PEN - Order now!
With the EPODEX Grout Pen, you can paint your grout lines in white or in the classic shade of grey the pen is a special acrylic-based paint for colouring and refreshing tile grout.
Thanks to the flattened tip of the pen, the grout pen adapts to any grout line width and thus ensures quick and clean retouching of the tile grout lines in one single application. For a clean result, we recommend using a ruler.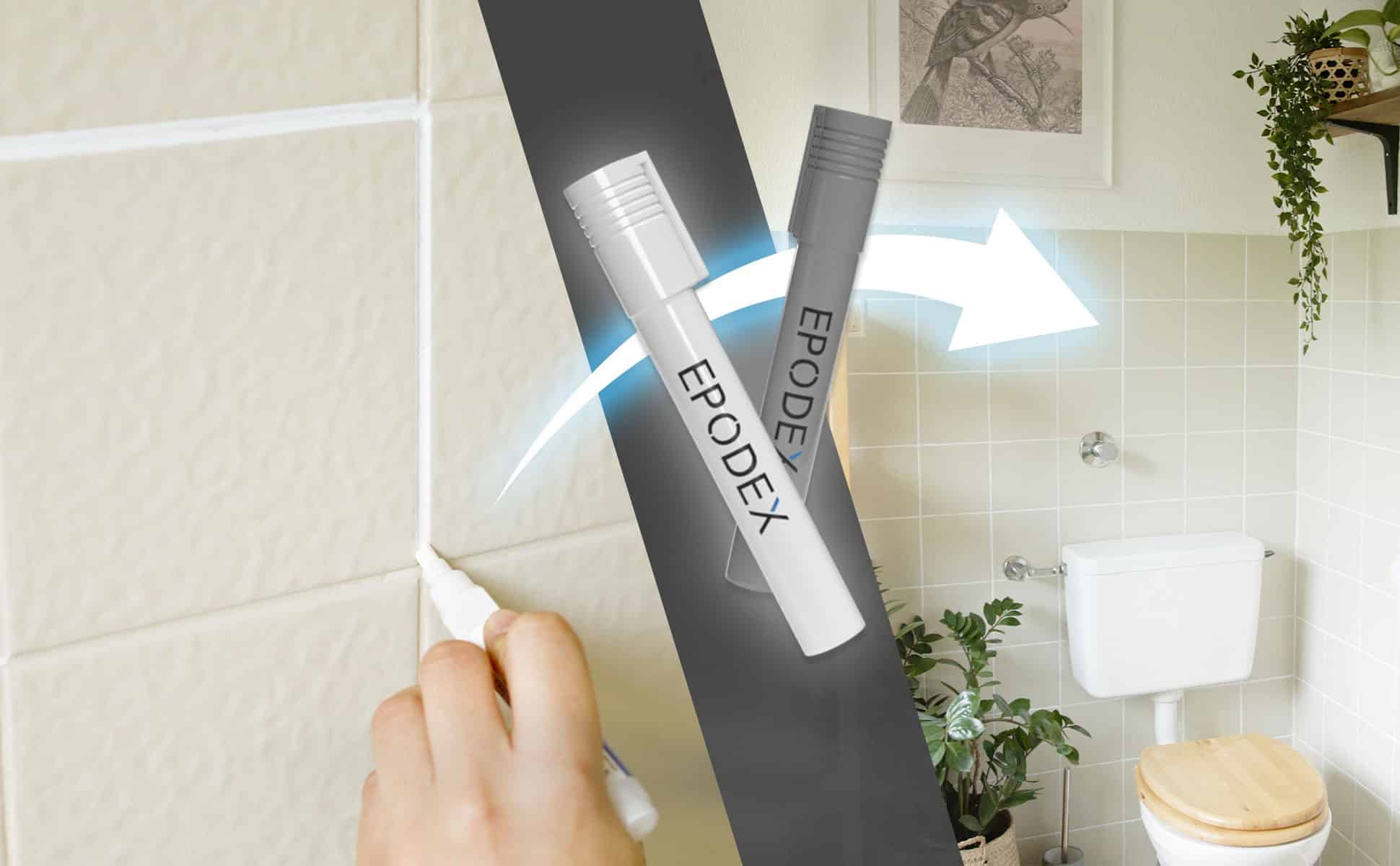 Recommendations:
Processing temperature: The room and substrate temperatures must be at least 8°C. Do not apply on heated surfaces or in direct sunlight. Drying problems may occur at low temperatures. To achieve a lower viscosity, dilute the paint with up to 5% water. Clean tools with water immediately after use.

EU limit value: (Cat. A/d): 140g/L (2010), max. 140g/L VOC
Customer Service:
If you have further questions, please contact us by phone, e-mail or use our WhatsApp support.

Note: Please note that due to different lighting conditions and monitors, the colours may not be uniformly displayed.
Danger and Security Statements:
Attention: The product contains preservatives: 1,2-Benzisothiazol-3(2H)-on; 2-Methyl-2H-isothiazol-3-on. Causes serious eye irritation. If medical advice is needed, have product container or label at hand. Keep out of reach of children. Avoid breathing dust/fume/gas/mist/vapours/spray. Do not get in eyes, on skin, or on clothing. Dispose of contents and container in accordance with all local, regional, national or international regulations. Safety data sheet available on request.

Application
Product Description
Tile paint, tile varnish
Scope of Application
Wall tiles without permanent water contact, i.e. without standing water
Field of Application
Indoor and covered outdoor
Method of Application
Paint, roll
Consumption*
approx. 140g/m²
Range/Yield*
approx. 7m²/kg
Odour Unfolding during processing
Low (odourless)
Spray and Drip Behaviour
Very low (no splashes)
Processing Temperature
min. 8°C object and ambient temperature
Optimal Processing Temperature
20°C
Mixing Ratio by Weight Resin (A): Hardener (B)
No mixing ratio, as one-component product
Pot Life at 20°C
No pot life available
Technical Properties
Basic Compound
Acrylic base
Gloss Level
satin
Consistency
medium viscosity, (drip resistance ensures application on vertical surfaces)
Opacity according to DIN EN 13300*
High (class 1-2, 6-8m² per litre)
Coating's Advantages
*abrasion-resistant, hard-wearing, scrub-resistant
Water vapour diffusivity/Water vapour permeability DIN EN 1062-1
Medium (Class 2; diffusion-open; sd-value: <0.5m)
Diffusion-open, Breathable
Yes
Colour Resistency
High
Colour Intensity
High
Paint's Structural Finish
Fine structure, even coating pattern
UV-resistant
Yes
Solvent-free
No
Plasticiser-free
Yes
VOC-free
No
Susceptible to abrasion marks and shiny spots (so-called writing effect)
Vulnerability with EPODEX WAX sealant low
Environmentally Friendly
Yes
Proportion of Binder
High (min. 20%)
Proportion of Pigment
High (colour paste content: min. 10%)
Density (g/cm³)
1,2
pH-value
approx. 8.5 -9
Maximum Grain Size
fine (≤ 100 µm)
Dilutable
Not dilutable
Tool Cleaning
Immediately after use with water
Storage
cool, dry and frost-free
Max. Storage Temperature
25°C
*Consumption, coverage and opacity may vary depending on the substrate (wallpaper, woodchip, concrete, wood etc.), the tool used (foam roller, paint brush, etc.) and the choice of colour. Brilliant yellow, red and orange tones generally have a lower opacity. Several coats may be necessary here.
×
TILE PAINT 1K | Violet and Pink Colours has been added to your cart.