Buy tile paint and reap the benefits
With EPODEX Tile Paint, you are choosing top quality at a low cost. Whether Tile Paint 1K for wall tiles subject to normal wear or Tile Paint 2K for wall and floor tiles subject to heavy wear – we offer you a wide range of colours and matching accessories in one click.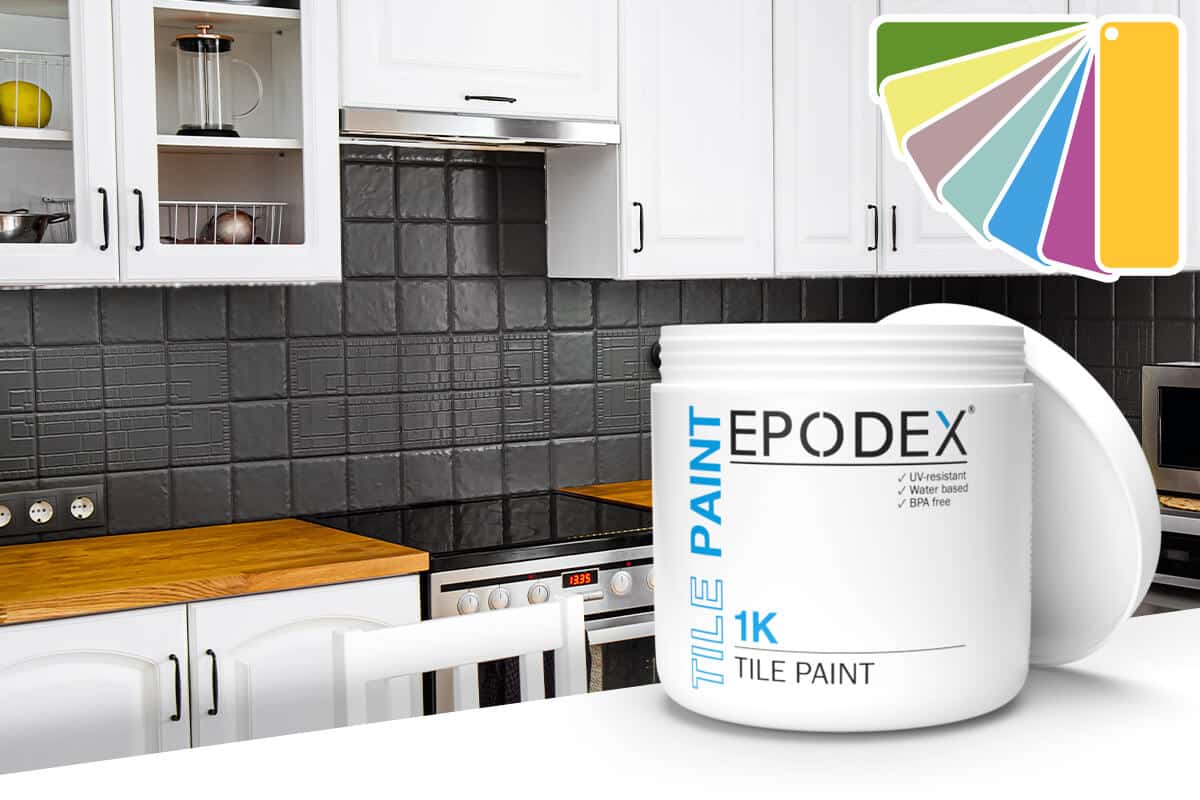 TILE PAINT 1K
For wall tiles exposed to normal wear and tear, without permanent water contact.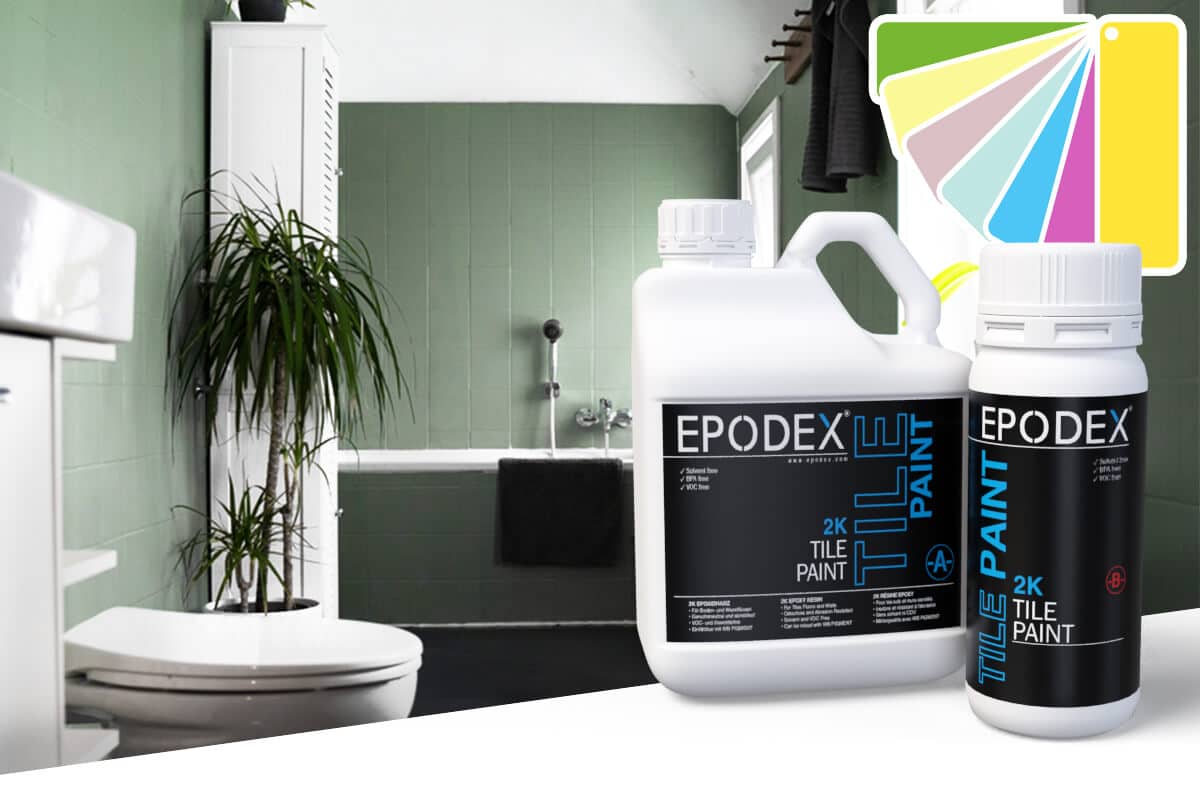 TILE PAINT 2K
For heavily used wall and floor tiles as well as tiles with permanent water contact.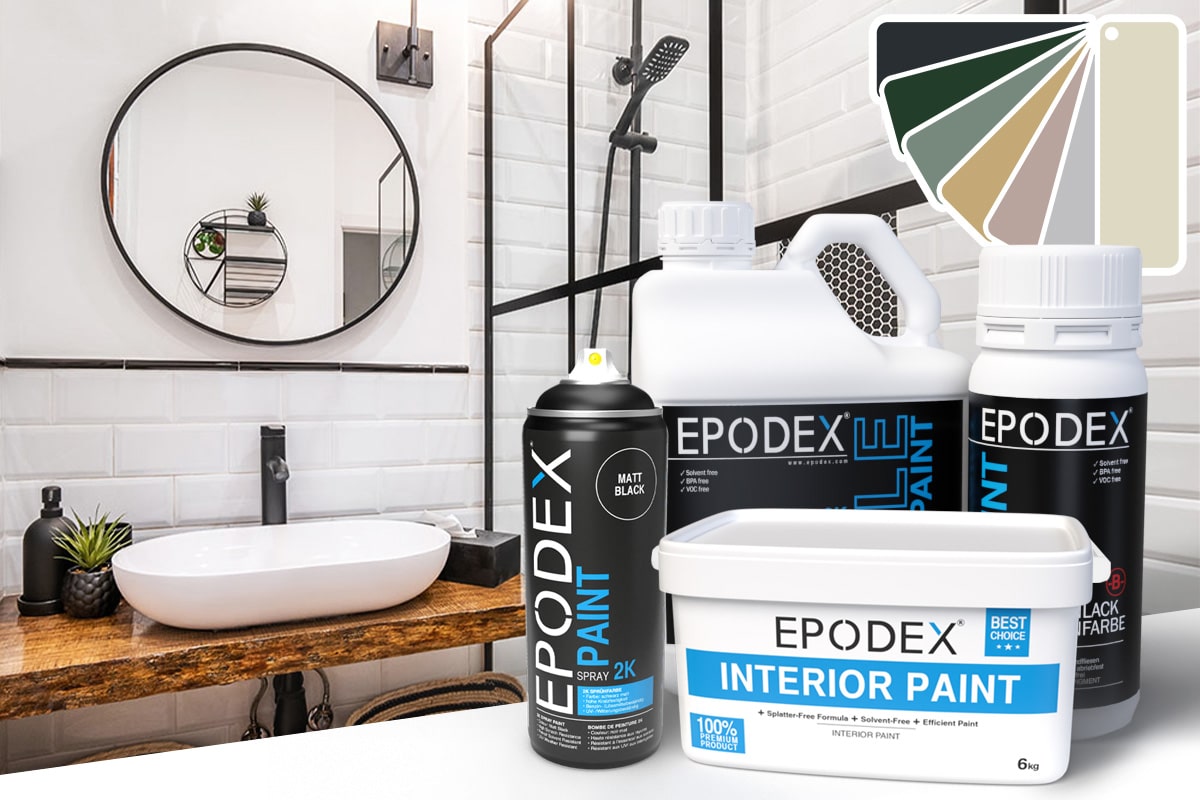 What is tile varnish?
Tile varnish is also called tile paint. This is a special varnish that is perfectly matched to the smooth and glossy surface of tiles. The lacquer impresses with its easy application and good adhesion properties. A distinction is made between 1-component varnishes and 2-component varnishes. The epoxy resin-based 2-component varnishes are more resistant and waterproof than acrylic-based one-component systems and are mainly used in wet areas such as showers and bathtubs.
The best type of varnish to use depends on the field of application. For tiled walls that are not subject to heavy wear and tear, coating with our high-quality 1K varnish is sufficient. Tiled floors, on the other hand, are subject to heavy wear and tear and should be coated with a 2-component tile varnish. Tile paints are available in a wide range of colours and qualities. Don't make any compromise and choose EPODEX! In our online shop you'll find professional varnishes and paints at the best price. In addition, all our product products are free of solvent classified as harmful to health and are UV stabilised!
More than
1000000+
Satisfied costumers
Website very informative, product selection is also very interesting, the order was also delivered in a few days.
01.11.2021
Everything great! Especially the telephone contact. I would find it helpful if more videos were included. Explanations of what you have to consider.
13.10.2021
There was a small problem with my last delivery, which was fixed immediately after a short call without any problems.
22.09.2021
Transparency
Quality
Customer Service
Use and Advantages
With EPODEX tile varnishes, you can easily give your old, outdated tiles a makeover. This easy revamp saves you the time-consuming and costly process of replacing your tiles. Save time, money, and a lot of work.
Our varnishes are easy to apply and perfect for beginners. Let yourself be convinced by their simplicity and perfect finish. You can find detailed instructions on how to paint tiles in our blog. It is possible to paint old, old-fashioned tiles that are not damaged. For slightly damaged tiles, it is also possible to repair the small cracks and holes before painting. Only badly damaged tiles need to be replaced before painting.
Paint a tiled Floor with TILE PAINT 2K
In addition to painting tiled walls, it is possible to paint tiled floors with EPODEX tile varnish. The application on floors is as easy as the one on walls. It should be noted that floors are subject to heavier wear and tear than walls. The varnish will be subjected to much more stress and may peel off in places. It is therefore recommended to choose a resilient varnish. A 2-component varnish is more suitable for application to floors than a 1-component varnish. The application of a 2K varnish differs little from that of a 1K varnish. The only difference is that the two components, resin, and hardener, must be mixed together before adding the pigment paste of your choice.
Buy Tile Varnish – In White or in Colour
You can buy tile varnish from us exactly according to your requirements. We offer you a wide range of colours with which you can give free rein to your creativity. In addition to the classic tile varnish grey and white, we offer you all common RAL colours. In addition, all our colours can be mixed with each other and follow the colour theory – so you can mix exactly the tone you are looking for!
Whether it's a solid colour or a pattern – everything is possible with EPODEX. Our opaque paints are of the highest quality. In addition, our paint is easy to apply and dries quickly. Upgrade your old tiles with EPODEX now.