How to Make Resin Jewellery
---
No wonder, resin jewellery is very popular within the DIY community. It offers many possibilities to turn your ideas into reality. With our epoxy resin you can create unique crystal-clear and colourful pieces of jewellery in no time at all. Once cured, our casting resin is unbreakable and an eye-catcher that you will enjoy for a long time! Use our professional resin kits for your epoxy resin jewellery!
Inspiration for Resin Jewellery
You can easily make rings, earrings, pendants or bracelets from epoxy resin. You can cast it into a mould from the craft supplies, for example to create a pendant for a chain in your desired design. Rings and bracelets can also be made with the help of a silicone mould from cast resin. Decorations for your home can also be realised. Hardly any other material is as universally applicable as epoxy resin. The special thing about resin jewellery is that you can embed elements, flowers, pictures or metallic pigments in our crystal clear resin. Small elements like pearls, flakes or glitter, can be mixed into the finished resin-hardener mixture. Heavier objects can be embedded between two layers of resin prevent them from sinking. Fragile objects like flowers should carefully be brushed with a thin layer of resin so that they there are not damaged by the casting.
Make Your Own Resin Jewellery
Basically, there are three ways to make jewellery with casting resin. For beginners we recommend to cast our resin into an existing mould. Moulds for rings or earrings are available in online shops or in handicraft supplies. You can cast our resin into these moulds and combine them with small objects, if desired. With our coloured resin it is also possible create smaller patterns. The application is very easy: You fix the mould, prepare the epoxy resin according to the instructions and then cast it into the mould with the help of a wooden spatula. When the resin has cured, your jewellery is ready!
Alternatively,  you can make small mouldings in combination with another material, such as wood, or just from casting resin. You can then file these into the desired shape and use them as a pendant. This technique is especially suited for brooches, necklaces, key rings and earrings.
The third method to make your own resin jewellery is to make it with epoxy resin alone and to embed objects to your liking. For example, you can use silicone moulds that are specially designed for bracelets or rings for that. After curing, you release the resin and carefully remove any edges with a cutter.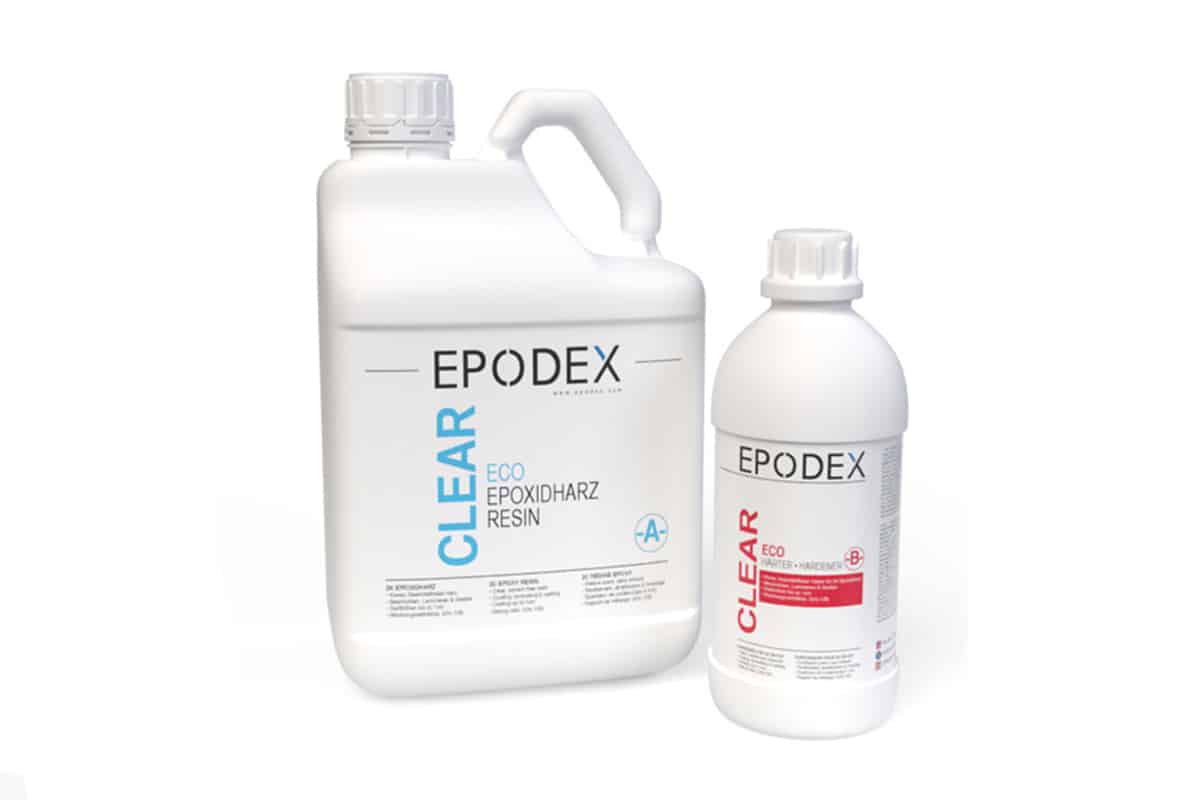 ECO System (Resin+Hardener)
Resin to coat, laminate and repair
Layer thickness: 0,1-1cm
Clear, frost stable and BPA-free
Use: Coating (floor, table etc.), making of terrarium/aquarium, stone carpet, jewellery making and much more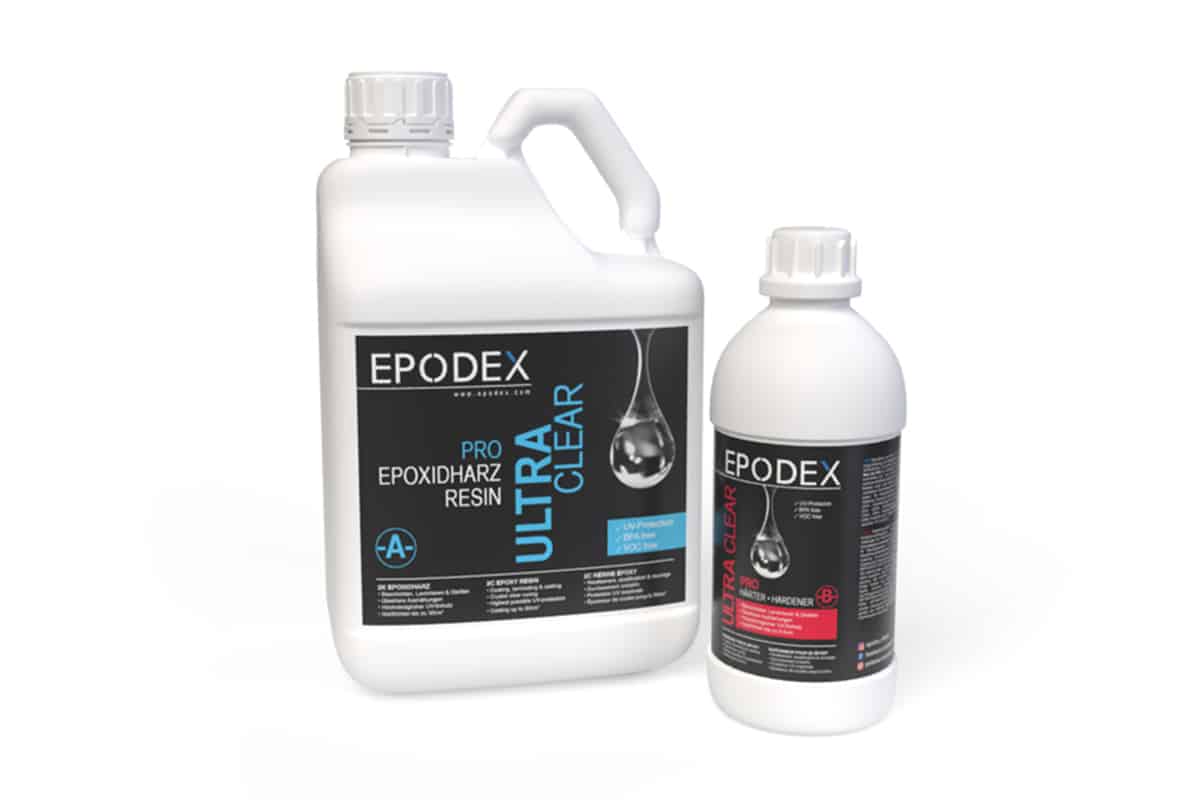 PRO System (Resin+Hardener)
Coating and casting resin
Layer thickness: 0,1-2cm
Crystal clear, UV resistant, VOC- and BPA-free
Use: Coating (floor, table etc.), jewellery and decorative object making, artwork sealing and much more
ProvenExpert

TOP ratings
˂
Everything great! Especially the telephone contact. I would find it helpful if more videos were included. Explanations of what you have to consider. 03.10.2020
There was a small problem with my last delivery, which was fixed immediately after a short call without any problems. 01.09.2020
Website very informative, product selection is also very interesting, the order was also delivered in a few days. 22.08.2020
˃
Epoxy Resin for Jewellery
Epoxy resin jewellery is reminiscent of glass jewellery. The advantage in contrast to glass is that epoxy resin, once cured, is unbreakable and highly glossy. Furthermore, epoxy resin is UV-stable and water resistant, so that you are guaranteed to enjoy your piece of resin jewellery for years. You can cast resin into any form you like and make perfectly fitting, absolutely unique pieces of jewellery. Once cured, resin always retains its shape and does not shrink or bend.
No matter if it is for a birthday, Christmas or an anniversary – self-made pieces of epoxy resin jewellery will make your loved ones happy!
Resin Jewellery with Wood
Jewellery made of wood features a natural look. The combination of coloured epoxy resin with woods such as cherry or pine is particularly popular. To treat wood with epoxy resin and make jewellery from it, you put pieces of wood in a silicone mould and then add the liquid resin. When the casting has cured, you can sand it into shape until reaching the desired result. Then you can drill a hole in the jewellery and use it as a pendant for necklaces or earrings, for instance.
Epoxy resin can also be used to coat table tops or various other pieces of furniture. The combination of epoxy resin and wood is an eye-catcher and lends your home a certain something.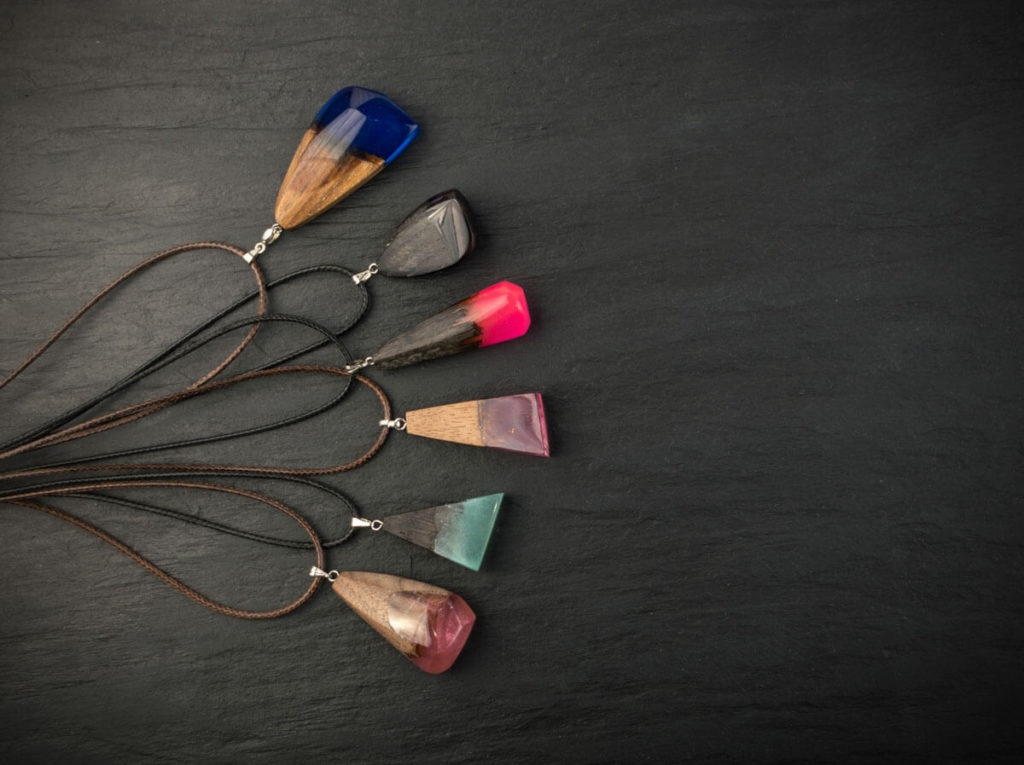 EPODEX offers you different resin kits like ECO and PRO that are ideally suited to make your own resin jewellery. You can add pigments, drop-ins and embedded objects to our casting resin, as you like. Discover our wide range of products and our service! Our customer support is at your disposal for questions. We are looking forward to you!