High-quality epoxy resin from EPODEX to seal or coat your floors yourself. Our resin kits can be used to coat load-bearing floors like garage floors, kitchen, and living room floors or industrial floors. It can be applied to a variety of surfaces, such as concrete, wood, plastics, or GRP to create a stable and impact-resistant floor coating.
Our wide range of colours allow you to dye the resin in your desired colour to set visual highlights in your floor.
Unique Floor Coatings
A resin floor coating protects your floor from material decay and moisture. It improves the overall look of your space. Use our metallic colours or flakes to create uniquely designed floors. You can easily cast marble floor patterns or implement extraordinary colour effects. In comparison to a genuine marble floor this process will save you a ton of money!
EPODEX offers a wide range of colours for your epoxy resin floor. All our transparent colours, colour pastes, & colour pigments can be mixed in combination with each other allowing results in countless ways.
Do you have questions about our products? Please contact our customer service team. You can reach us by phone, e-mail and WhatsApp.
Buy 2-part Epoxy Resin
(Resin & Hardener)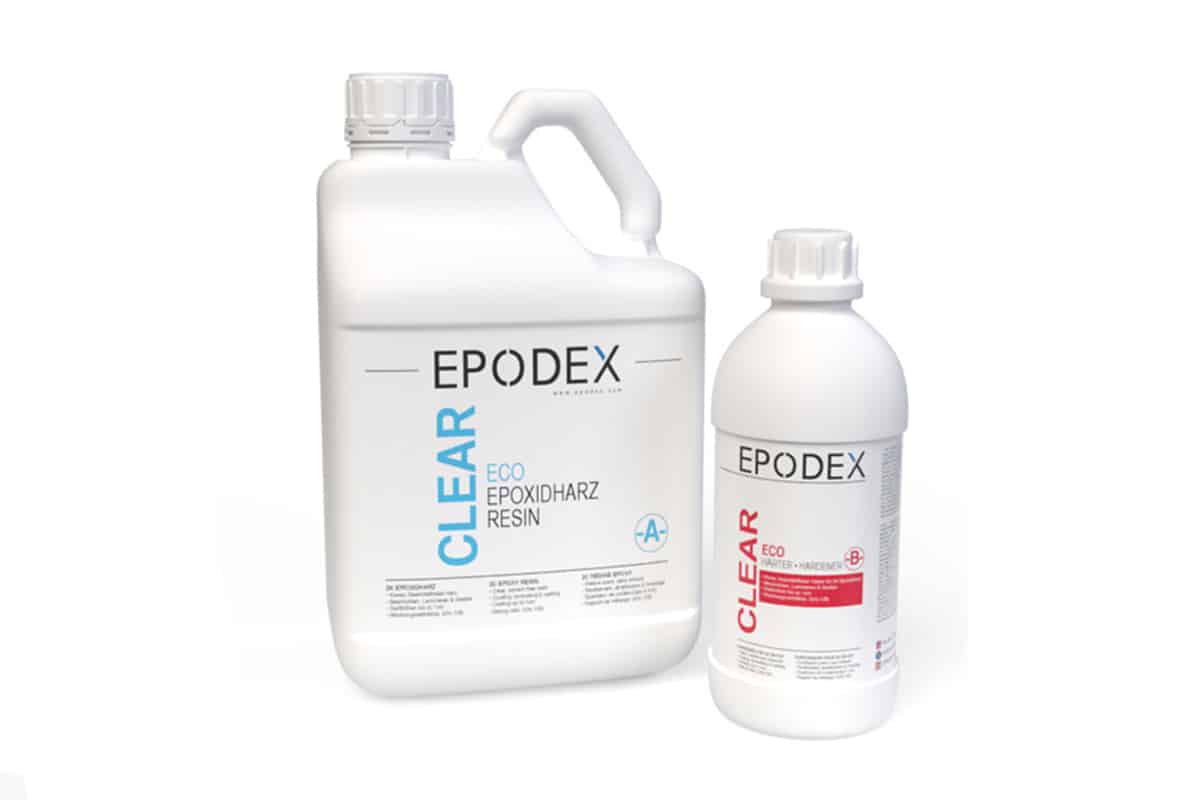 ECO System (Resin+Hardener)
Resin to coat, laminate and repair
Layer thickness: 0,1-1cm
Clear, frost stable and BPA-free
Use: Coating (floor, table etc.), making of terrarium/aquarium, stone carpet, jewellery making and much more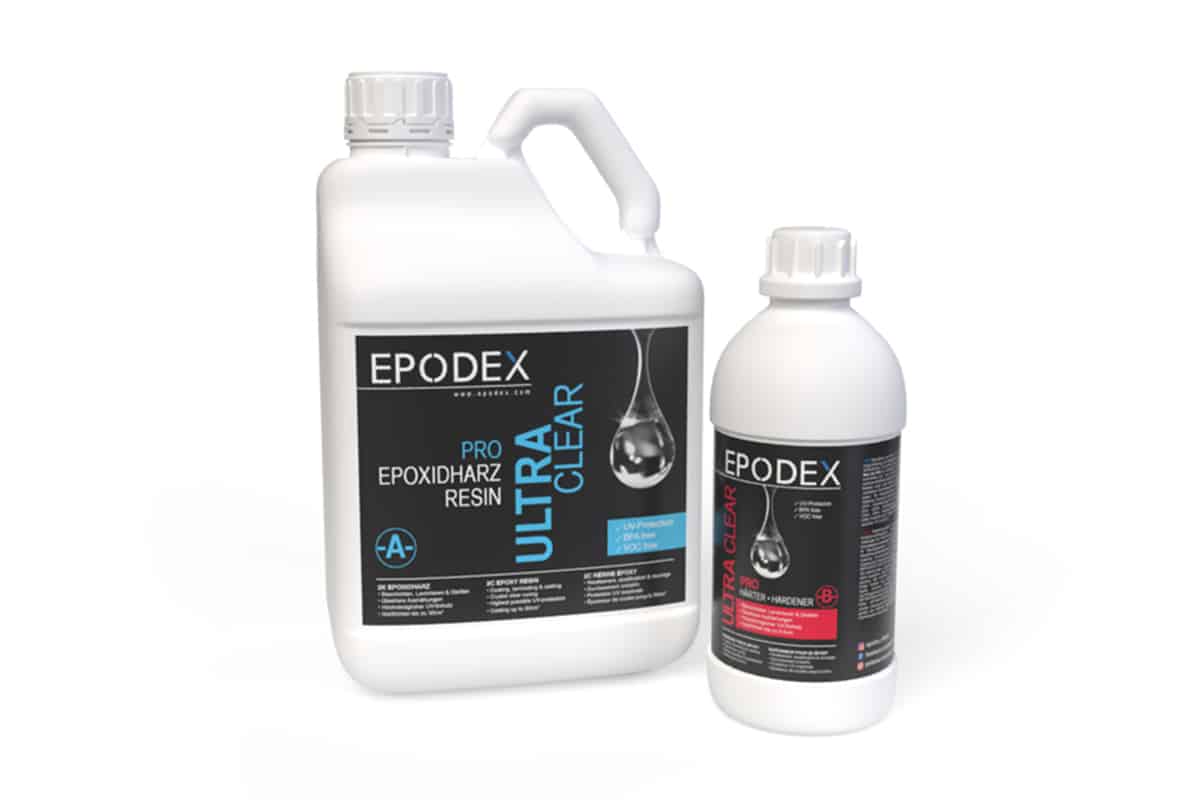 PRO System (Resin+Hardener)
Coating and casting resin
Layer thickness: 0,1-2cm
Crystal clear, UV stabilised, VOC- and BPA-free
Use: Coating (floor, table etc.), jewellery and decorative object making, artwork sealing and much more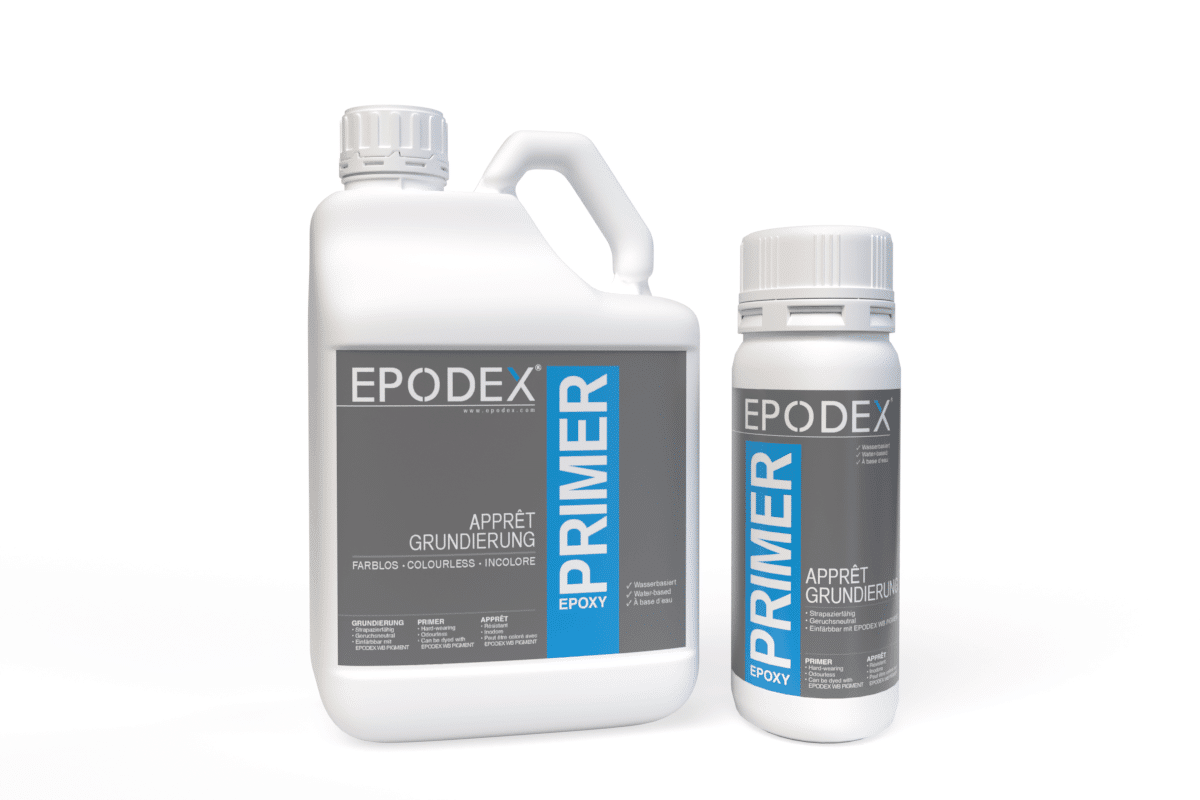 EPOXY PRIMER System
Primer suitable for epoxy resin coatings
Layer thickness: approx. 0,3mm
Consumption Volumes: 120-150g/m² per layer
Odourless 1-Component System
Use: Primer for floorings, walls and other surfaces
ProvenExpert

TOP ratings
˂
Everything great! Especially the telephone contact. I would find it helpful if more videos were included. Explanations of what you have to consider. 03.10.2020
There was a small problem with my last delivery, which was fixed immediately after a short call without any problems. 01.09.2020
Website very informative, product selection is also very interesting, the order was also delivered in a few days. 22.08.2020
˃
1. Clean and Mask the Surface
Make sure that the floor to be coated is not uneven and is free of any cracks, breaks, or holes. For a proper coating, make sure the floor is also free of weight-bearing items, is dry, and dust-free. If these conditions are met mask the floor edges with tape to proceed. It is best to wear nail soles during the application process to avoid leaving marks on the surface. Wear a respiratory mask and old clothes such as disposable overalls.
2. Prime the Surface
To cover all floor pores and reduce material-loss, prime the floor with a thin epoxy layer of 0.2-0.3cm. Mix the required amount for the first thin layer and stir the two components together slowly and thoroughly for about 3 minutes. Then spread the resin on the floor with the paint roller. The best results are achieved when painting in a crosswise motion as this closes all the pores in the floor. Work quickly, observing the pot life. Allow the primer to cure completely before applying the main coating.
3. Apply the Main Coating
Once the primer has cured, start with the main coating. Our metallic colours are supplied as pigment powders in sachets. This allows you to determine how much colour pigment you want to mix into the epoxy resin, particularly when intenting to use several metallic colours at once. Mix the resin and hardener in the correct ratio as you want to do for each metallic colour used. Then pour the metallic pigment into the mixing jug and mix the pigment with the crystal clear resin. Then cast the epoxy resin onto the primed floor, spread it with a paint roller or squeegee and repeat the process for the other metallic colours. We recommend a layer thickness of 1.5mm for the pre-coating. For a garage or industrial floorings, add quartz sand or synthetic fibres, which increase the pressure- and tread-resistancy of your epoxy resin floor.
4. Remove the Masking Material
After processing, remove all tapes and enjoy your brand new glossy, seamless, epoxy resin floor. For optimal results, pay close attention to the room temperature and curing times.